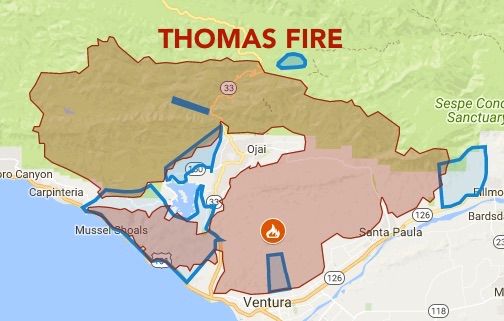 "Clearly, I am ready for doomsday."
8 min read
The Evacuation (Chapbook Version)
Tuesday December 5, 2017 Savoy Café, Santa Barbara, CA, Thomas Fire day one 45,000 acres burned 0% containment 
Now Playing: Miles Davis (unknown track—overhead at the cafe) 
2:05 pm 
Where do I begin? 
I am sitting in a café in Santa Barbara because this morning me and my housemates, most of the people on my street, and a good portion of the entire town of Ojai evacuated due to intense, fast-moving wildfires that began last night. They are spreading quickly due to the environmental conditions: We've been in a drought for 4 years. The rain that came in mid-November was just a sprinkling and hasn't returned. There's been no water in the air or on the ground. And then, out of season, the notorious Santa Ana winds came to town last night in full-throttle. 
Now it was morning and all signals (wi-fi and cellular) were intermittent or down. The power was on then off then on again, then off. I couldn't reach anyone. There was no way to know what was going on—I couldn't find out where the fire was, what anyone was doing, or what I should do. 
I went into the main house to see if I could get any information and if the wi-fi could be re-set. My housemate was on the couch looking at pictures on her computer of her daughter and laughing over old Halloween costumes and how much she'd grown. She told me that schools had closed due to the fire. She was excited to have the day off from a job she's been struggling with for four years. She encouraged me to chill out and kick back. It seemed like the fire drills like we used to do in middle school—you get out of class, talk to your friends. Then it's over and we all go back inside. I decided to change my guitar strings. That was on my list for the week anyway.  I also needed to try to find a way to get through to my studio. We were tentatively scheduled to start re-mixing the songs for the album today. 
But then the mood changed. Suddenly the light inside my tiny-space darkened eerily as if the sun was setting at 10 am. I went outside looked up and the sun was covered in a huge cloud of red and grey smoke. I pulled my housemates outside to look. She told me the neighbors had started leaving. The only information we really had was the sky and what everyone else was doing on our street. My housemate mused, "Yeah, if I had to evacuate, I don't think I would take very much…" I interrupted. "I don't think this is a hypothetical situation anymore. I think we might need to, you know—leave." 
Out of nowhere one of the neighbors I hadn't met yet stormed up our driveway. She wore black metallic hinged braces on both her legs and a look in her eye that was non-negotiable. "You have to get out." She commanded. I tried to introduce myself. She didn't care. I don't blame her. "I was in the army." She asserted, "It's my job to see that everyone is safe and only then I will leave. That's my job. That's my job. You, you have to get out. Get out now." 
Then we all started packing for real. 
I suppose I overdid it. I didn't know if I was going to spend hours upon hours in traffic, I didn't know how far I was driving—Santa Barbara? Berkeley? Portland? Denver? Ottawa, Canada? My mind ran through the list of people who might be willing take me in. If roads continued to close, I could end up stranded on the side of a freeway which out here can mean a curly two-lane snake surrounded by forest and hills. The idea that I would "evacuate" to a café in a posh city 50 minutes away, didn't exactly fit with the pictures that were popping up in my head. News reports of Hurricane Katrina and the movies The Day After and 28 Days Later were my reference points. 
So I did me. I packed up 3 gallons of water in one of my 5 gallon containers with its pump and a portable sawdust toilet (bucket, pine shavings, toilet paper). I threw together a bag of any food I thought would survive the trip—canned beans, tuna, my half-filled jar of homemade granola, almonds, chips, sauerkraut (it's a probiotic), and a thing of frozen ahi that I knew I could eat raw if I needed to. The real "prepper" in me showed when I grabbed a bag of potatoes and thought, If I can't eat these, maybe I can trade them. Clearly I am ready for doomsday. 
Shaking, I took a last walk through my sweet little home, to say goodbye—maybe forever. I stopped abruptly as I passed two drawings I had hung on the wall a week ago. They are the two drawings I am most proud of making. One took weeks, the other twenty minutes. They remind me every day of why I live for the unpredictable and unfathomable process of making art. I burst in to tears. I kissed the mouth of the portrait like I was saying goodbye to a lover, but that was not enough. They had to come with me. There are a few things in the world that cannot be replaced and whose memory is not sufficient. I took those three things: my guitar, the two drawings, and the afghan my great aunt Sarah knitted me. It is one of the handful of items from my childhood that I still take comfort in. I wrap up in it every night (ah, the endurance of polyester yarn). I don't remember life without it. I put those things in the car among my survival supplies, hugged my housemates, and we all left.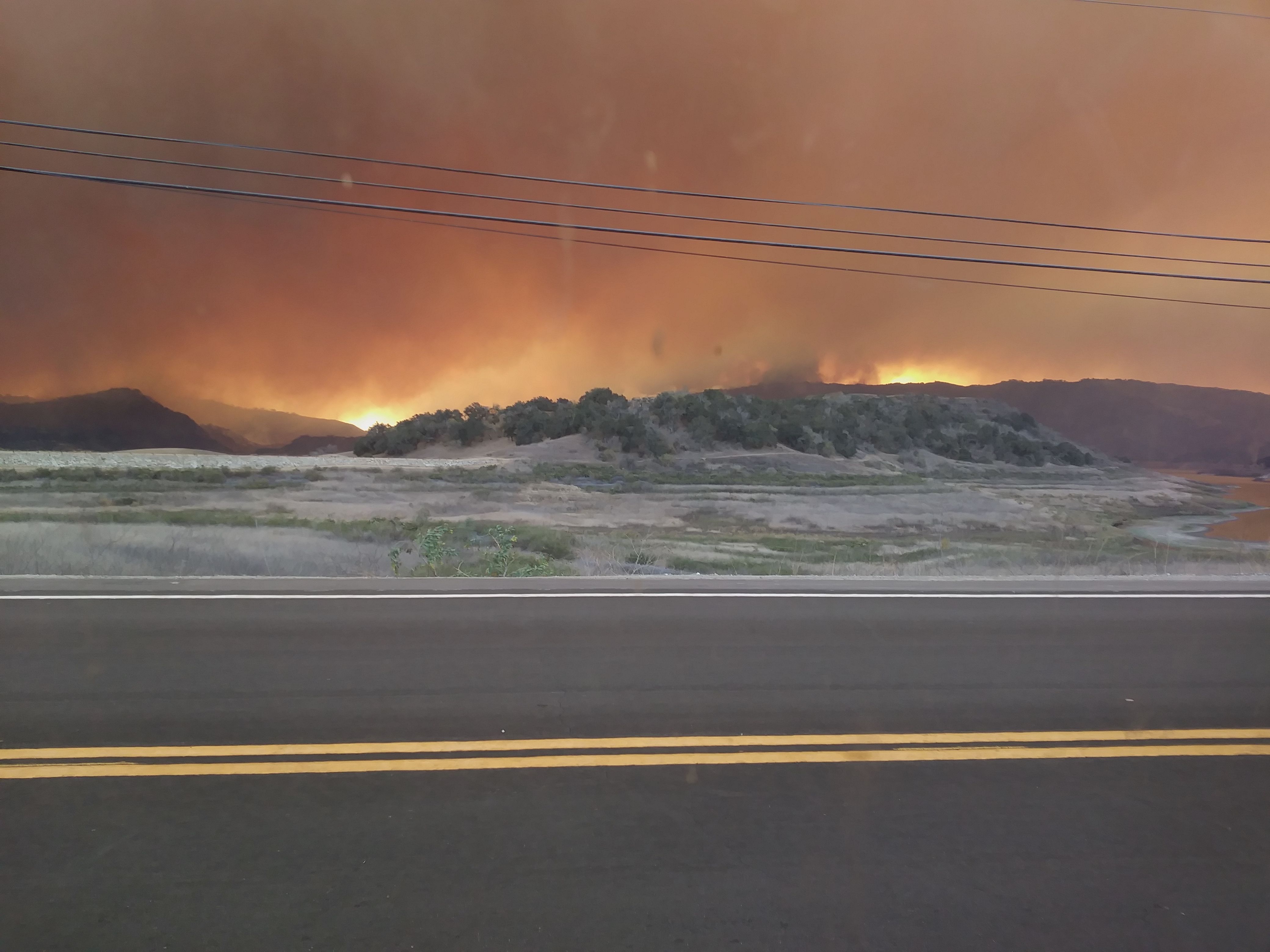 The air was smoky and heavy. The sky was red. I sat in traffic for a few miles getting from my neighborhood to the main streets out, which gave me the chance to snap a few shots of the flames in the hills behind houses. "Those are flames!" I said out loud as if someone were sharing this escape with me, but my passenger seat was only occupied by the partially filled five-gallon jug of water. I had never seen flames coming towards houses. I guess other people had because they were unfazed. Two people were outside chatting. One woman was clearing her yard of dog poop. I kept trying to reach another close friend in town but signals were not connecting. I headed towards the main highway which my housemate and I had agreed was our best bet out. I heard later that she got through, but by the time I got there the fire had jumped the road they and were closing it off. I asked a volunteer worker what I should do. His answer: "Get out." 
I turned the car around. There are only a few ways out of Ojai, and most of them were now closed. I crossed my fingers and ducked down a side road taking the back way around past the lake to get to the road out. The lake looked rusty and murky. I hadn't seen it in a while so at first I thought that it was so dry from the years of drought that it finally had turned to mud. Then I realized the lake was merely reflecting. That was the color of the sky. 
It was hard to drive away. A part of me felt like I should stay. I should experience it. I should witness the flames. I should stand by our home. I should be as tough as the people I knew would never leave. Tim, Vic, Lee, they would hunker down. They would not see this as a big deal. I managed to get through to Vic, my old neighbor, and told him I was evacuating, his response was "swing on by if you want." The close friend I had been trying to reach is Tim's wife. I wanted to see if they were evacuating but I knew it was a long shot. He is the type of person who has actually run into fires when he sees them. I just hoped he would help her go if and when she wanted to. 
There was one other thing that spurred me to leave. A couple of months earlier, during a Rolfing session, I had been lying on a heating pad that was on top of the practitioner's table. It started off warm, but had steadily gotten hotter, particularly under my hip bone. I didn't say anything. I grew more and more uncomfortable, then it hurt. I started to think I might be getting burned in that spot on my hip. Still I said nothing. I just lay there, as my hip start to sting, reminding myself that I have a high pain tolerance, not wanting to interrupt the session, or speak up. When I got home I had burns—on both hips, because I did the same thing when the practitioner asked me to roll over so he could work on my other side. This wasn't the first time I had endured discomfort to the degree of physical harm—and for what? To not inconvenience someone else? To prove my own strength? To whom? Today I made the decision not to be burned again.  
And so I arrived here in Santa Barbara. 
I wandered around downtown in a daze. 
I don't look good. 
A guy wearing black dress pants and black button down shirt who looked like a spokesmodel with a thick (maybe fake) European accent was kind enough to point that out. He was hustling product outside of a beauty shop on State Street Why are beauty shop people always wearing all black? He offered me a moisturizer for my face that was made with merlot. When I replied "I don't drink, not even on my face," he said, "Well, what about something for your eyes?" He was quite unsubtly referring to the dark circles under my eyes that have haunted me my whole life but lately seem to grow deeper and darker and more disturbing by the day—Thanks for noticing…dude. Then he pulled me inside the store and tried to sell me "natural Botox" for about 20 minutes while putting stinging gel under one of my eyes, and pointing in the mirror saying "See?" He asked me to repeat back to him the instructions he was drilling into me about how to use the product. I failed his test. 
My thoughts were a unintelligible patchwork of his words and endless questions about my situation. I looked out the window to the street realizing where I was and why. Then he informed me I could buy the gel for half price for $100. After explaining that I don't have $100 and his responding that all Americans have $100, I took his card. I do hate those dark circles under my eyes. I can't remember if I told him I was evacuated from the fire or not. 
I did tell every other person I talked to, "I am evacuated from Ojai—because of the fire." It kept spilling out of my mouth. I went from eating spot to eating spot looking for a decent hamburger and telling people I was evacuated. Evacuated. I had to get my mind around a word I had never used to describe myself. 
A couple I recognize from Ojai came into the café while I was in the restroom. They have dazed looks on their faces and their eyes have a wide glassy focus like there is a movie playing in front of them. It's that look you get when you are imagining the worst. They had a hard time picking through the thoughts to make sentences. She apologized for looking like a mess. He said his house is just a few blocks away from a school that is rumored to be burning. He won't know if that rumor is true or if his house is burned until accurate information starts to trickle out of the fire zone. So they wait. They are sitting two tables away from me—waiting. All we can do is wait.
© 2017 Licity Collins all rights reserved. Please ask permission to reprint.