"I unpacked my sweet little funeral dress..."
3 min read / 4 min video
The Hotel Room (Live Version)
Saturday February 10, 2018 Washington, DC 9:50 pm
Now Playing: Edwin McCain "I'll Be" from the album Misguided Roses, on the hotel lobby radio 97.1 WASH FM

The hotel is a total dive. I mean Total. Dive.  
I had some idea it would be old, and questionable, but this is up there with one of the shadiest hotels I've stayed in, and I've stayed in a lot. 
It's a basement room—which was an upgrade from the room I found I was assigned when I arrived. Thank goodness, because the tiny fourth floor room with the bathroom nearly attached to the bed really struck me more as a cell rather than a room. This "upgraded" room feels like a hole in the ground. Two of the walls are covered with dark brown wood paneling. The low ceiling hovers ominously overhead, duly matching the bars outside the single window, which opens to a view of a small corridor and a tall concrete wall. There's not a hint of sky.  
I feel like a mole. In this corridor outside the window, which I guess is not really a corridor but a garbage dumping area, is an overflowing green garbage bin. It's pressed up against the window, its lid unable to shut completely due to a plastic bag of garbage bulging out of it. There's a chunky brown stain dripping down the window glass which looks like someone tried to throw a slice of pizza into the garbage bin but hit the window instead. The bathroom is a spacious 2 feet from the foot of the bed, and to get to it I can tiptoe across the dirty tan carpet which has probably been here for thirty years. There's no soap so I am using the complimentary shampoo to wash my hands, but it does have a bathroom sink, which is more than I can say for the space I live in most days. I miss having a sink at home, so that's kind of a treat.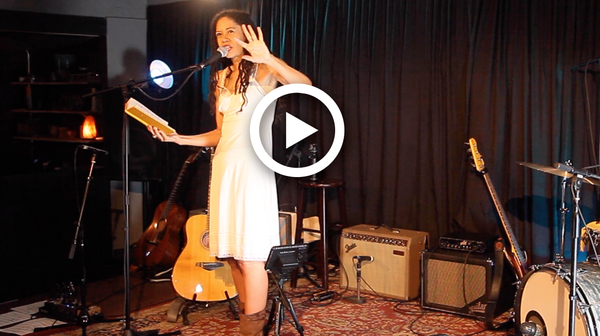 This is what people mean when they say "You get what you pay for." I am grateful for the Expedia deal, which I reminded myself was paying for my emotional comfort, not necessarily my physical comfort. I'm not sure if that's working either, something about this room makes me feel like a failure. I'm not sure I can handle my mother's funeral with this as my home base.  
But I am tired, and the bed is soft. I unpacked my sweet little funeral dress and hung it on the dowel propped in an indentation in one side of the room. It is only wrinkled a bit, and they do have an iron and mini-ironing board, which was something I really hoped for when I was planning this. I will adapt. This is how it is happening. Yes. 
This piece was performed at the Underground Exchange on January 12, 2019 and at An Evening of Art and Music with Janice Chan on March 24, 2018. It is included on the LOVE COURAGE YES album. Watch Now:
© 2019 Licity Collins all rights reserved. Please ask permission to reprint. 
Video still by Bernie Larsen