"Hey, you're that bike path hottie!" 
18 min read 
The Part of You That Needs No Healing
Saturday, August 18, 2019—Friday, August 31, 2019 
Now Playing: Tim Finn "Crescendo" from the album Tim Finn on my ipod
"When you learn how to trust your feelings, then you'll know how to recognize it. The part of you that needs no healing, is like a swollen river rising."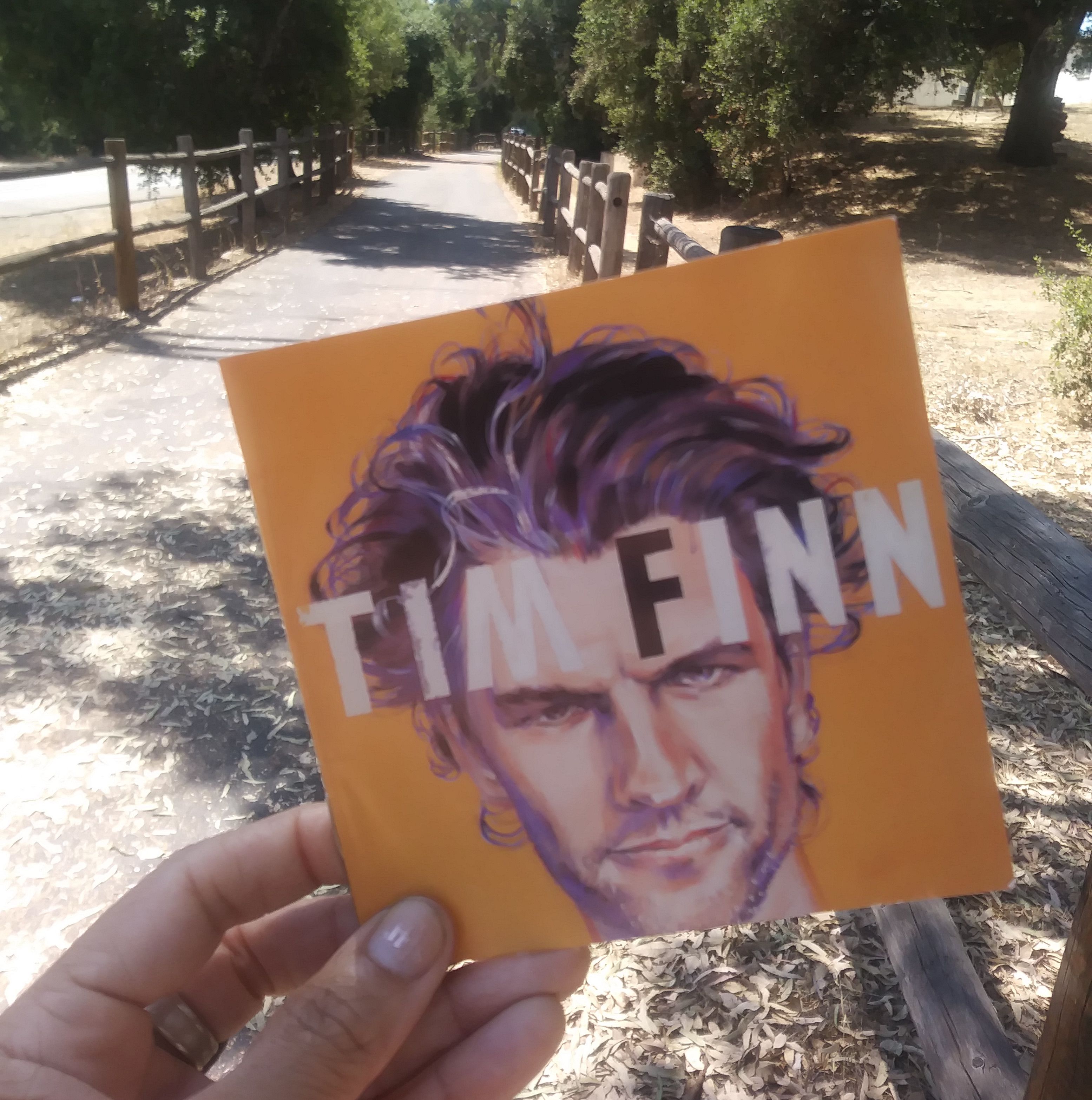 "Hey, you're that bike path hottie!"  
     "What?" I turned to find a guy in a dirty orange t-shirt peering around the edge of the giant movable storage "pod" in which I was standing, with my body propping up a row of three-foot abstract paintings on canvas, preventing them from falling over. One of my dearest friends is moving.  
     "I, just…I see you on the path sometimes." The guy explained.  
     "I'm sorry I didn't understand what you said." He sounded like garbled mumbled nothing. I assumed this was because I was intensely focused on the task I had been assigned.  
     "Oh, I talk so fast, I know. I just—I see you on the path sometimes."  
     "Oh, hi. Oh, right. Okay." I said, snapping out of my focus to notice the look on the dude's face. That prompted my brain to somehow re-process the garbled rush of words he had said. I heard them repeated back in my head: "You're that bike path hottie." Oh, this. Right. This thing. I have heard this before. The familiar emotions of flattered, creeped-out, and annoyed all passed over my aura, and I assume, face. I saw the stranger's expression droop in disappointment. It was clear that I didn't recognize him in the slightest.  
This is the third guy with whom I have had this awkward interaction.  
There is a walking/biking path that runs from Ojai 20 miles into Ventura. I walk on a small segment of it it as much as possible. When I was living just near it I walked 2-4 miles on that path every day, sometimes twice a day. It clears my head. It was where I walked for hours upon hours listening to the process tracks for the One Girl Town album—at each stage, mapping the demos, arranging the vocals, re-writing the lyrics, analyzing the mixes, then finally just listening to the final mastered album, reveling in how amazing it is to produce a debut album. A lot of my creating myself as a musician happened through walking on that path. It was also the path I walked over and over in silence after my dog died, and after my mother died. It is where I go when I need somewhere to go.  
So you can imagine that I don't pay that much attention to the dudes on bicycles whizzing by. They appear out of nowhere and my main concern is whether they are riding so close that they might yank off one of my arms in a fast fly-by.  
Apparently, they are having a very different experience of our interactions. The first time I met one of these guys off-path, was at a friend's party, the second time the guy was actually sitting in the waiting area of my recording studio, and I have to admit I was probably rude to him. We were in the middle of a hard and heavy day of frustrating recording which would lead us to replace the musicians we had spent all day recording (and paying). That turned out to be the best decision ever, but at the time I was entrenched, really worried, and unable to shift gears to care for the ego of some dude who was giving me that "I know you from the bike path" line accompanied by this strange bright and hopeful glint in his eyes that seems to say, "You're just one step away from being my girlfriend,"  
My responding look of complete blank confusion, needless to say, is not what they were hoping for.  
There are plenty of faces I do know on the path. Jyl, a writer of children's books who now always carries her dog Olivia either in her arms or in the basket of her purple tricycle. Those two I do notice when they whiz by, because she honks and gives a giant wave usually yelling something which the Doppler effect distorts so much I can't understand, but always appreciate—by the time I realize who she is I have to yell after so she hears me, which I assume she does not. The difference of pace between walking and biking is rather a lot. There's Sharon on her pink bicycle—she usually stops for a chat with me about her pursuit of healing and her son's struggles. Cowboy Benjamin and his German Shepard, who flirts with me (the cowboy not the dog) mostly in Spanish, which I don't actually speak. I haven't seen them in a while. Karen, who is always covered head to toe in black long sleeved shirts, black leggings, and a white hat, complete with red lipstick. People think of her as 'that strange lady' but I know her. She and can I stop for a long chat, or just say hello in passing. I played her "Just My Love" right after it was finished. She used to have six dogs with her, one in a stroller, but most of them died. She lives half the year in Miami, but loves Ojai and has a small farm-like property here. So, before you think I am entirely self-absorbed, please believe that, yes, I do know many of the people I see on my walks. I love them, a lot.  
I was walking on that path recently listening to my trusty iPod when a song I have loved for many many years came on and I heard it fresh—one of the magical things about music, it can wake you up at just the right moment, even after listening to the same song for years. The song was "Crescendo" by Tim Finn and as I walked along this familiar path full of unfamiliar bike guys, I heard these familiar words—familiar in tone, but all of a sudden brand new in their language and meaning:  
"When you learn how to trust your feelings, then you'll know how to recognize it. 
The part of you that needs no healing, is like a swollen river rising."  
I thought, Wait, what did he say? What? There is a part of me that needs no healing?  
I have had this album since I was seventeen and for all those years, I just chocked that line up to something I didn't quite understand, something Tim Finn was trying to teach me that I wasn't yet ready to learn. He is a philosopher and the album is filled with Zen koan-like gems of wisdom which blew my mind on a regular basis. I couldn't have an epiphany with every one of them, so I just let those particular words float by.  
When I was seventeen, which may have been one of the best years of my life so far, besides the last twelve months which has been the best year of my life for certain—I went to my first concert, and my favorite band. Tim Finn was the opening act.  
My favorite band was the 10,000 maniacs.  
I had discovered them on MTV, back when it was not only still playing music, but trailblazing in the world of music. Back when it had to fill every hour of every day with music videos, so any band who could get one together could basically get airtime. This is how some of the most innovative bands of that era were introduced into the world, and a lot of the not-so-innovative as well. MTV had a segment called "Nouveau Video" where not-so-rock music found its way into the ears of the MTV audience. Here I was introduced to artists including Enya, Toni Childs, and 10,000 Maniacs, whose video for "Like the Weather" was a regular feature in this segment. It captivated me with its original guitar and spaced out drums, strange lyrics about depression, and one of the most unique voices I'd ever heard—Natalie Merchant.  
I consumed that band like water in hot dry weather. Constantly, constantly constantly. Their third album, In My Tribe was the popular one. I sang with Natalie Merchant's voice all summer long.  I sang about alcoholic homes to "Don't Talk" I sang about illiteracy to "Cherry Tree" I sang about gun control to "Gun Shy" I sang about child abuse to "What's the Matter Here?" and I sang the poetic and illusive opera-inspired ballad of "Verdi Cries" over and over and over. That album was everything my seventeen year old spirit needed. Then I went to the record store and did what any good fan would do, and went backwards—I got the album before that one, The Wishing Chair which most people think is their first album, but was actually their second, which turned out to be my favorite. And eventually I even tracked down The Hope Chest, which was their first release. I sang it all.  
I sung my heart out to Natalie Merchant and 10,000 Maniacs that whole summer because I loved her, but also because I needed her. That summer was a shock to my soul. I don't remember June, but at the start of July, the woman who had first championed my voice, who gave me the most unconditional love I had ever known, my third grade music teacher, died from breast cancer which had spread to her brain. My mother, who always saw herself in competition with that teacher, decided, at the funeral, to take that moment to tarnish my reputation with my boyfriend's parents. I walked out of the church to find her mid-sentence feeding the appalled looks on my boyfriend's parents' faces, "Well, she said one thing but I'm not so sure…" my mother chucked a skeptical noise. She was suggesting that I had lied about something that had happened a couple of weeks earlier, which I had not lied about, and would never lie about. I didn't lie about anything. She knew that. Mortified, but unable to intervene due to my unspeakable grief, the incomprehensible setting, and the sheer futility of ever contradicting my mother or standing up for myself, I turned around and went back inside the church. There I received a generous offer from my teacher's husband to attend the burial—a chance to see my dear teacher at peace and really tell her goodbye. My father made me say no to that. He wanted to go home. He didn't think the burial was a place where I belonged. When we arrived back at our house, he criticized me for crying about my teacher's death then sent me to my room under threat of further punishment for the crime of being a generally weak person. Two weeks later, my eldest sister got married, leaving our house and me behind for good. And a month after that, my boyfriend, my first real love, whom I had bought a ring for, got down on one knee and proposed to, moved halfway across the country to college. We crossed our fingers hoping our relationship would survive his new life and my senior-year thirst for freedom, which it did not and could never. He fell for the girl in the dorm room next to his. He told me the ring I gave him turned his finger green.  
When the new school year began our long-term chorus director had retired and been replaced by a short, cocky, young, new guy with a chip on his shoulder—something to prove. He didn't seem to care about anything other than basking in himself. He treated us like tools to use to that end. I know this is probably not the case, but I feel like he didn't even ask me my name. He was that cold and disregarding. He didn't even care who was in the chorus—he made every single one of us re-audition. This infuriated us all. Chorus was a special thing we had all worked hard to earn, and we were a connected group. If one person lost their space in chorus, we would all feel a righteous outrage. We prepared to launch a protest if needed.  
Over the course of that year, that short jerk with something to prove gave me some of the most memorable and treasured singing experiences of my life. Under his leadership I learned one of my favorite Gregorian chants, Ubi Caritas (Duruflé) which we sang in chamber chorus. He had a very good ear, and when he sensed the parts were imbalanced he asked me to switch from soprano to alto in the middle of a phrase. He knew I was the one who could do it, and I did, and loved it. I still sing that song that way today. When we sang Handel's Messiah he let us choose whatever section we wanted to sing in, and I chose to sing tenor. That was a rare opportunity and incredible fun. I still sing the tenor part today when I sing along. And when one of our top singers dropped out of the musical, Stephen Sondheim's A Little Night Music, which was a brilliant and challenging selection, a true gift that director gave us, he replaced her with me, because I was the only other girl who could hit a high B-flat. I got to sing "Perpetual Anticipation," one of the best trios ever written.  
But before all of that for which I will always be in grateful awe, back in that first week of school, I stood broken and barely taped back together from the summer, a few inches from the brown upright piano in the room adjacent to the room where our chorus rehearsals usually took place. The new director wouldn't even let us into our regular rehearsal space until we had passed his tests. Re-auditioning for a spot I had already earned, I wasn't sure if I would be allowed to stay in the chorus, let alone the chamber chorus (which was a prestigious position). I just wanted to continue to be allowed to do the thing I loved to do most of all, sing. I was angry. I was nervous. I was broken. I was scared. I wanted to smash that little man. But instead, I sang. And, after belting my soul out to 10,000 Maniacs all summer long, I sang a lot like my interpretation of Natalie Merchant.  
He made two observations.  
     "You are singing way back in your throat."  
     "Okay." All I wanted to know was if I got to keep my seat in the chorus.  
     "And you are singing flat a lot."  
     "Yeah, okay." Am I in or not?  
Then he asked me one question.  
     "What section do you usually sing?"  
     I answered, "Alto."  
     He replied, "Well, you're a first soprano now."  
That was it. I kept my seat in the chorus, but from now on it would be a seat on the other side of the room, two voices higher than usual, and yeah, I had that high B-flat.  
"The part of you that needs no healing…"  
For most of my life, I had thought that my re-positioning in the chorus had meant my voice had changed. So much of me had felt changed by the losses of that summer, it seemed fitting that my voice would change too. But now, while writing this for you, (literally—I deleted a paragraph about how my voice changed and wrote this one instead) just now I realized that my voice did not change. The new director had simply placed me in the soprano section because I could sing it. Our previous director had me sing alto, because I could sing that too. As I was writing, and recalling the details of my memories, I remembered that the year before that summer I had auditioned for the soprano solo in the Fauré Requiem (the Pie Jesu, for the classical music nerd in you). It's high and I had all those notes. In truth, my voice can sing as low as tenor and as high as first soprano, and I sang those parts and all the parts in between, and always have. I had that high B-flat way before that summer. All of my voice, all of me, was always there.  
This is liberating. It does not erase the pain of that summer. It does not erase the difficulties I endured, before and since, and there have been many. But it does tell me that perhaps, I have not been as damaged by those difficulties as I have led myself to believe. Perhaps there was something in me, not just resilient, which implies putting myself back together after being broken apart, but instead, maybe there is a part of me, maybe even all of me, that was, and is, and always will be whole.  
(you know that when I write and sing words that sound like they are about me, they are also about you, right?)  
I started this story by telling you that seventeen was one of my favorite years.  
It was.  
Because autumn did finally arrive. The sky turned a rich blue against the red and yellow turning autumn leaves, which made each morning's drive through the park to school have a fresh sense of hope. School resumed as my favorite refuge and my senior year infused me and my friends me a sense of well-earned freedom, experimentation and adventure. In the midst of that winter, I found myself in one of the best relationship arrangements of my life, very much in love with two dear friends who sang in chorus with me. Next, I, who had never thought of myself as a visual artist, spent my off-curriculum senior project making sculpture out of recycled garbage, previewing a source of creativity which would later become my first artistic career and joy for over fifteen years. Then one weekend, I found myself in my friend's basement, singing with a band for the very first time, something I would ache for since that moment, which would become my second creative career which I hope to enjoy for the rest of my life. And then, on one early spring Sunday when the fading of winter was still barely chilling the air, I drove across the park, and knocked on the door of one of those dear friends who welcomed me into the safest haven I knew. In his arms that day, I heard Joni Mitchell's music for the first time. Together he and I made the the beautiful memories which many years later, became the song "Cracked Window."  
And as summer started to roll around again I found myself in left-side balcony seats at my first concert, peering over my favorite band, in a glow of total amazement and sheer awe, singing along with 10,000 Maniacs and Natalie Merchant in the flesh.  
It was a magical night filled with Natalie Merchant's magical voice and free-form dancing, a giant puppet costume, and vivacious energy beaming from every member of the group. But the best moment was this. When they began to play obscure single track they performed from their second album (a song about hanging out in cemeteries), the entire crowd sat down. I guess they didn't know that song. I—the only one—jumped to my feet exclaiming "Yes!" Of all three albums, "Lilydale" was my favorite song and they were about to play it, seemingly, just for me.  
The opening act was Tim Finn, a prophet-like bard from New Zealand, who I suspect roamed the earth bare-footed for centuries, and then decided to have some fun by putting his wisdom into pop music. Tim Finn is also the brother of Neil Finn who is famous for being the iconic voice and visionary of Crowded House, made famous for the song "Don't Dream It's Over," yes that song you know oh so well. But please listen to that entire album, it is profound, as are all of his solo records, he's brilliant. They both are. The two brothers tried to be in bands together for a while, but, it didn't work out for the long term. That's not a surprise. You can hear their different sensibilities in their music. Tim wants to talk in straightforward terms about philosophical things, and Neil wants to dive deep into metaphoric intimacies, and though their singing voices are similar, their inner voices are very different. And maybe one of them is bossy, maybe both. That I can't hear in the music, thankfully.  
Never miss the opening band. They are going to be come your new favorite thing.  
Tim Finn came out in all black loose clothing, in bare feet, of course, and sang his unique songs in his unique voice from his unique head, and I was captivated. His song Parihaka about Te Whiti, a New Zealand nonviolent activist, was catchy to the ear and inspiring to the mind. It has a line about understanding his philosophy when you taste the salt in your pudding and the sugar in your soup. Things like this stayed with me. Tim Finn is smart, he wants to make you grow by listening to his music. He wants to push you. He wants to confuse you. He wants you to give a shit. He wants you to dream and dream big.  
Tim Finn still manages to capture my attention and make me think about how I see the world. His song "Not Even Close" was one of the first things I learned to play on guitar six years ago when I started this adventure. He stays in active rotation on my iPod so comes up a lot when it's on shuffle on my walks on the path. It was just a few weeks ago, probably as some guy on a bike was whizzing past me, when I heard that chorus again, It felt as if I was hearing it for the first time.  
"When you learn how to trust your feelings…."  
Last weekend, I went to a going away party for two friends who are moving (The artist I was packing up and his wife who feels like a sister to me). I met a lot of people I didn't know. Afterwards two of them wrote me and suggested we become friends. And my first thought was But I didn't like you. This was a shocking thing to hear myself think. Does it sound small and petty? Stick with me. It might be one of the most important thoughts I have ever had.  
I am a person who likes most people—or can make myself like most people. I can find the good in everyone. I cried at the Nixon movie—for Nixon. I somehow find a beam of light in every single person and see them as that light—despite all the shadowy things they might be saying, doing or being. I have been the kind of person, who says "okay" whenever someone takes an interest in me, no matter how uncertain or uncomfortable I feel about them. My feelings of not being good enough, not being worthy, not knowing my own value has caused me to acquiesce to bad situations. I know I don't sound like this from the stage. Yes, I am strong, fearless, and a creature of insanely abundant love, but, sometimes my mind has interpreted my capacity to love into an obligation to love. I have too often put up with people and situations I don't really like, because I think it's all I can get. This has created a lifetime of really fascinating experiences. I have a lot of stories. But it occurs to me lately, that I don't need any more good stories. Well, no—that's just it, I need good stories. I have a storage locker full of stories of painful mismatched friendships and relationships gone awry, assault, injury, illness, mishaps, mayhem, and poignant lessons, all of which get turned into really fun things to tell you about from the stage. But as far as the plot of my personal life—it's time for a new narrative.  
"…then you'll know how to recognize it."  
So, I politely replied to the new overtures without taking up their offers to strike up a new friendship. And, I also made the decision to let go of a couple of friends I already had that I realized I don't like very much either. And I grew closer and closer to my two friends who are literally on the road moving away as I write this. I feel at ease about the geographical loss because I am certain we will feel like family for life. I decided to trust my feelings about all of these people. It felt great. I highly recommend you to do the same thing, often if needed.  
"The part of you that needs no healing…."  
And now, as I look back on the two parts of my seventeenth year, I see one part that experienced so much breakage. And another part, that was somehow, already whole, and stayed whole.  
That year, I met the part of me that needs no healing.  
Today, I am recognizing her.  
I like her.  
She is wise. And because of that wisdom, because she knows how precious that wisdom is and what it took to gain it—she knows exactly how to be happy.  
She says "No." There's no need to have people she doesn't like in her world. She makes room for the incredible people in her life who are growing, deepening, expanding, Her friends know her value and add joy to her world.  
She smiles. Sometimes she smiles so big at compete strangers shat they stop and ask, "Do I know you?"  
She tells the truth. She will never allow anyone to accuse her of lying ever again.  
She dares. She leaves behind a career she loved to make a career out of the love she's been aching to do, be, feel, and share in her bones since she came into the world.  
She cares. She sits with her friends and talks for hours, forgetting there's anything else in the world that needs doing. She knows how to be entirely present with another person.  
She falls in love whenever she can. Even when later she realizes it was a really bad idea. (see "The Falling" and "The Undressing") No. She's changed. She's had enough of bad ideas. She knows her own value and will only fall in love again when it's a good idea. Hold me to that.  
She loves without falling. She loves so incredibly boldly, standing upright and tall. You know me enough to know this part of me. It amazes me sometimes, how absolutely I can love. How fully, how totally, how unquestionably, with not a shred of doubt in my mind. And that love can last for just a moment, or for decades. I don't know how I am that person, but I know her, and being inside her is one of the most powerful feelings I can conjure.  
She sings. She simply sings.  
 "…is like a swollen river rising."  
The part of me that needs no healing does not get pushed down or aside. It cannot. It is so whole, so complete, so certain, that it simply waits for me to notice it, for years if need be. Once I recognize it, it grows. And this is what Tim Finn has been trying to tell me since I was seventeen. And here I am—finally—recognizing the part of me that needs no healing. Even though she has always been there, I can see her now because, finally, finally, I am learning how to trust my feelings. The next wonderfully unavoidable step? Swell, rise, expand—like a river drinking in a downpour.  
Let's put it all together:  
When you learn how to trust your feelings. 
Then you'll know how to recognize it. 
The part of you that needs no healing 
Is like a swollen river rising. 
Bring me. Bring me to Crescendo. 
Thank you, Tim Finn. 
Holy shit. This life is about to get really good.