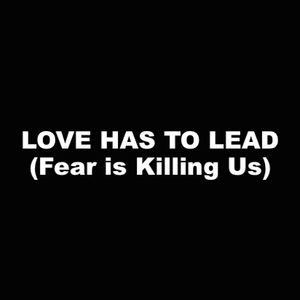 My Official Statement on Everything Happening Right Now
"How do we love those who hate us?"  An audience member asked me. 
I replied—"You just do. Do it because they are a part of you." 
Here is a still from my "Love Leads" live broadcast last Friday. 
Hello World, 
The last two months have been intense. The last week has intensified the intensity. 
I have to send you some courageous love right now. 
I am going to keep this short and clear—something you can easily re-post, pass along to others, and remember as you make choices about how you can do your part to implement the changes we clearly need. 
Love has to lead. 
I talked about this at my live broadcast last Friday. If you were there, you felt the power of the love even over the stream. If you were not there, we all missed your presence. 
Fear or Love? 
We are seeing (again) the difference between what happens when we are led by fear and when we are led by love. When fear leads, our needs compete and people die. We believe it's us or them, you or me. When love leads, all of our voices, all of our lives are valuable and included. People strive to keep one another alive. We believe in "and," "all," and "we." 
We have taught our police to be afraid. 
Every time a police officer is called to do their job, they are walking into a bad situation. That cannot be easy. (Yes, I have compassion for everyone. That's how love works.) We all know, when we are scared, we make bad decisions. If the police are coming from a basis of fear, they will make the situation worse, much worse. And when the police make bad situations worse, people can die. It is the charge of our police to make bad situations better. This can only be done if they operate from a basis of love. This can only happen, if they see their job as an act of love. 
Sensitivity training will never be enough to change things. Our police (yes, our) need re-training of the fundamentals of how to police. They need to be shown how to police from a place of caring for each member of their community, from a place of love. They need to have their natural fears addressed and their unnatural fears extricated, not inflamed. They need to be shown how to make situations better—by acting from a place of love. 
When we call our stay-home orders "lockdown" we are evoking images of prison that most of us are very lucky not to be in. We are inciting unnecessary fear in people. We see the results. People are naturally afraid of "lockdown" and act out against it. Why have we not referred to this as "caring for our community"— as an act of love? 
During this pandemic, if we are forced to choose between economy or public health—we will hurt each other. And we are. Fear says our needs compete, that only one segment of us can have our needs met. And fighting (and more fear) is the result. Love shows us the ways to include both, in fact, all, of the needs of our community into our solution to any crisis. The result is....that's up to us, right now. 
It takes Courage. 
We have to do better—every one of us, in every one of our actions—all the time. 
We have to ask ourselves, when are we coming from love and when are we coming from fear? In everything. We have to ask ourselves when and why are others coming from fear? We have to ask ourselves how can we help them come from a place of love? We are all connected. Fear lives in each one of us. So does love. 
It's not naive. 
It's not political. 
It's not preaching. 
It's not bullshit. 
It works. 
Martin Luther King Jr. taught that there are two forces operating in the world. Fear and Love. Nothing has made that truth more clear than this time. 
You know this. 
Deep in all of us—we know this. 
Love has to lead. 
Now. 
Big Hug,