"Falling in love felt like someone had shot me out of the sky. "
10 min read / 17 min video
The Falling (Live Version)
Sunday April 21, 2019—1:22 pm
Now playing Licity Collins, "Scrambled," running through my head. It's a new song. The first line is "I can't believe I'm falling in love with you, what a ridiculous thing to do." 
Something ridiculous happened to me recently. —— I fell in love. 
Don't get excited, I got dumped this past Tuesday. 
Yesterday, Saturday, was a long day waiting for this love to call, which he did not. He had dumped me on Tuesday with very little warning and I spent the next three days writing twenty-five pages of notes to make some sense of the anguish and confusion so I could be ready for a conversation he had agreed we would have in person. On Tuesday he said three times that said he would call me Saturday morning to set up a time. He did not. I spent the day wailing, weeping, exclaiming shock, intermittently playing bass, and tearing at my chest. I wanted us to stay in love or one day be in love again. At the end of the day I was exhausted, had come up with a pretty good funky bass line, and was facing the reality that I had to let the idea of us go. 
I see myself as a bird in the sky. Flying high, effortlessly, like a vulture gliding on thermals—wings spread and soaring. No need to even flap that often. Trusting that the warm air will carry me in the direction I want or adjusting when it doesn't. 
I'm big into vultures, actually. They have an unnecessary bad reputation, which I have never understood. We use the word "vulture" to label opportunistic evil-beings descending on vulnerable situations for self-serving purposes. This cannot be further from the real lives of vultures. They come down to the earth to eat the dead animals that murderous predators have left behind. They are carnivorous, but not predatory in the way their reputation suggests. They are the clean-up crew. They have developed featherless heads and highly acidic stomachs so they can dig into discarded carcasses yet resist infections. One type of vulture is the only vertebrate to specialize in eating bones. They're fucking brilliant.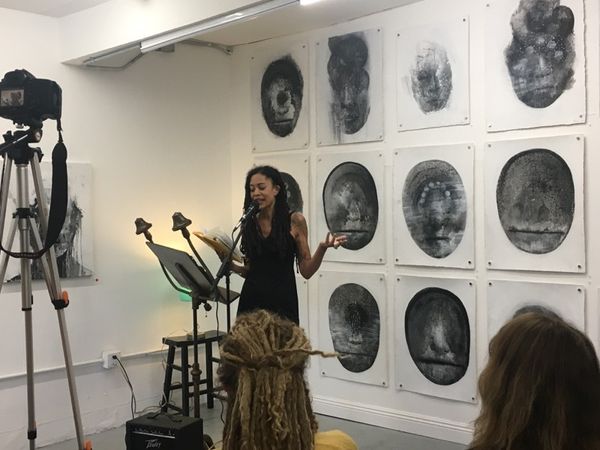 I am one of them, except for the bald head part. We both dive into the wreckage of life, and come out with something nutritious. We both defecate the digested entrails out onto our feet as a method of cleaning and protection. We both vomit up the food we have eaten to feed those in need. We find nothing at all in the world to be dirty—we put everything to use. Ask anyone who knows me and they'll tell you. I can take any situation, digest it, and vomit out something that will feed you. 
And I like being high in the sky. I feel safe up there, removed, unassailable, above everyone, offering pearls of understanding and perspective to people in concise little stories and nature metaphors. It's annoying. It annoys me. I am sure it annoys my friends. I am certain it has annoyed each and every one of my loves. That skill of being able to digest the good out of everything, can make a person into a sidewalk guru. I'll admit, it's bullshit. It's just a defense mechanism I have to make sure no one ever challenges me and I never get close to anyone, not really. It's not that I am afraid to grow. I work on myself like a full-time job. It's that I am afraid of anyone else telling me how I need to grow. That scares the shit out of me. A couple of people have called BS on me about it, but some people like it. They compliment me on my wisdom. But now, I am finally calling BS on myself. I don't want to fly up in the sky where I am alone and untouchable. I am lonely. I long to be touched. 
Falling in love felt like someone had shot me out of the sky. 
I was a mess. I have very little practice at love and I suck at it. I was overtaken, possessed by it. Completely oriented toward the person and disoriented away from my life, my creative work, what had previously been my somewhat meaningful existence. Before I derailed my life into this person, he and I had had a really fun and easy friendship—playful, full of humor, flirtatious, creative—easy. Once love entered the picture, once the bullet struck me in one of my wings, I fell to the ground crippled. Limping. Useless. Unable to function except for the next word, message, call, visit, touch from him. Until he reaffirmed his love for me daily, I felt lost and that I had lost him. I told myself it was wonderful, because it was love. And I told him I was crippled, and that he should care for my wounds. 
None of that is sexy. 
And so, for that and a bunch of other much larger reasons which had nothing to do with me in any way, he dumped me on Tuesday. 
I went to the beach. I sat on a rock. I tried to let the ocean calm me but it did not. After an hour, believe it or not, a vulture flew down in front of me, about ten feet ahead, and began to eat a dead bird that was on the shore. 
I watched. Vultures are nervous on the ground, just like I am, always looking over their shoulders, and so it's a rare treat to observe one up close for any length of time. I savored it knowing at any moment it could get freaked and fly off. As I watched it stand on top the dead bird holding it down with its feet and wrestle the guts from inside of it I thought about how vultures need to come down to the ground to eat. And, I had been told just earlier that week that birds must also come down to the ground to mate. Who can have a meal or sex mid-flight? I'm sure some bird out there does, but I bet it's a challenge. 
I honestly have to say, I am grieving the loss of the prospect of sex with him. A lot. Really. Just the thought of him would get me wet. That hadn't happened that much in my life, and I have had a lot of sex with a lot of people. Good sex too. Screaming, cursing, banging on the wall, the neighbors might call the police sex. Until the last few years, when for various reasons, I've had none. 
I haven't missed the sex, to be honest. I find sex boring in how predictable and repetitive it is, always rehashing the same ideas to arrive at the same pre-determined conclusion. It's such a stale plot—a beginning, middle, and voila, the end. Everyone seems so self-satisfied, surprised, even impressed at that end, as if it were a revelation, when to me, it's just the same thing that happened the last time. Then there are those people who see my orgasm as their accomplishment. It's all so bizarre. 
I need to place sex in a realm of infinite play, not finite strategy. I want someone to write the story of sex with me as if it were to last into an unknown eternity. It's the same way I feel about gardening, and music. 
I have for a very long time said that the one kind of sex I have always wanted to try but never have, the kind that I thought would not bore me—is—the kind of sex where you are actually in love with the person. That would be a new and wonderful adventure for me. I know that real love is infinite—ever changing, new every day. This is the kind of sex I wanted. This is the kind of sex that even when the person touches me in the same place the same way, feels new and exciting because they are, and I am, a new person every day. You only understand that when you are in love with someone. This promised that. I wanted to have sex with him, not for the sex, but to be inside of the love. 
But like I said. It's over. 
He forgets the things he says to me. This was something I pointed out very early into our connection. He said I should not put stock in his words. That seemed like such a strange thing to say. Did he want permission to say anything to me and not ever be accountable? I said that words are important to me. I am, after all, a writer of both songs and prose. Words are how I communicate my deepest feelings and most profound thoughts. A friend had cautioned me to pay more attention to his actions, but I didn't know how to do that. I learned that only yesterday—how to let someone show you, not tell you, how they feel about you. I sat and waited for his call, realizing the not calling was a stronger reality than the three promises to call. The action is always greater than the words. I get that now. But words romance and captivate me. And his words, the words he seems to have forgotten just like his promises to call—words like "I adore you. You are my angel. I'm not giving you up. You are so special to me. I'm going to be so good to you." Well, they were some of the most beautiful words anyone had ever said to me, ever. 
I grew up in a home where no one ever said "I love you." No one. It was not said. That's not entirely true. I said it. It would usually come out in one of my family's semi-platonic awkward hugs, you know the kind with tense pats on the back that never let you get too at ease, never let you relax into the person's arms, but instead make you feel like their golfing buddy. I would try to infuse those hugs with emotion, the emotion I thought they were meant to express. I'd say, "I love you." And my family members, every one of them, sisters, father, mother, would give the same response—they would laugh. 
I'm not lamenting about my childhood. I know I am an adult and that stuff happens to everyone. But families are where we are forged, like irons in a fire, into permanent shapes. Let's continue with the extended all-you-can-eat metaphor buffet we've got going here. Forged and hammered. That is what my family was like, I don't know about other people's, but mine was like a blazing fire and the hammer of a shrewd blacksmith. And I got hammered and bent into a specific shape, which I suppose, if I follow the metaphor, would need something equally hot in order to unbend me. Without that kind of blazing heat I cannot be reshaped out of the tool I was shaped into—perhaps I cannot be reshaped at all, only repurposed, used, hopefully, for something better. 
See how annoying my wisdom metaphors are? 
I'm just trying to find a use for my broken heart. I am a vulture after all. I have to make use of the dead left behind by others. Even when I am the carcass. 
I think that I loved him more than he loved me. I think that's been the case with nearly everyone I have loved, except maybe for my best friend in high school, who loved me with a resounding reciprocity, until I actually fell in love with her. Then, she too, like the others, found my love overwhelming and backed away. 
The capacity to receive love. Maybe that is where I am closed. I suppose anyone who thinks that falling in love feels like being shot out of the sky might be a bit guarded. I guess this is what I need to work on. Receptivity. 
When I was in fourth grade my teacher had taken a summer trip to the Philippines. She came back entrenched in everything Filipino, teaching us of culture and customs. It was her theme for quite some time. There is one thing she told us though which I will never forget. For some reason it formed a habit in me I have had tremendous trouble breaking ever since I was in her fourth grade classroom. She told us that in the Philippines, since certain items, like Coca-cola were rare (this was in the eighties), that when someone offers a Coke to you, you should, out of politeness, turn it down the first time. Then the ritual is, they offer it to you again, and then you accept it. What a wonderful dance of graciousness, respect, humility, and gratitude. I fell in love with it immediately.
And it became a habit. 
So I am a shitty receiver, because, I turn everything down the first time. The problem is that I am not in the Philippines in 1981, and no one else knows this strange custom I have adopted. When I turn something down, people take me at my word that I don't want it, and withdraw their offer—and a part of themselves. And I am left longing, waiting for them to re-offer. Meanwhile, I have unintentionally rejected love, and the person. I am left not knowing how to get any of it back. The best I have done is to realize I do this and explain the story about my fourth grade teacher to people by way of an apology and then tell them I really do want the thing they offered. It's a lot to go through for a soda, or a glass of water—or perhaps, the love of my life. 
I blame my impressionable fourth-grade mind, but in truth, I just don't know how to say yes to love. My new album is called LOVE COURAGE YES. And I have been touting this quote of my own contrivance: "When you come face to face with love, the most courageous thing you can do is say, yes." It's a pretty good hook. I believe that love can ask you to do extraordinary things, and we must find the courage to do what love asks. But in truth, perhaps I think it takes courage to say yes to love because love itself scares the crap out of me. 
[Sigh.] So where does that leave me, us, you and I, in this rumination I am having with you? 
It leaves me to tell you one thing, the one thing I did not tell him. I do not know if it would have made a difference, if it would have made him tell me the truth instead of all the beautiful words which dissipated into thin air. I did not tell him this because I was afraid of it, of how he would react to it, and I, in my strange relationship with receptivity withheld it, so that I could receive it first. And that is not receptivity that is manipulation and greed, fear and mistrust. I guess I mistrusted him all along. I suppose then it is good that I did not give him these words. I will though. One day, when I can finally make known all I felt in our exchange, good and bad. I will tell him. I need him to know. Even after all the wailing and chest thrashing, withholding this is my only regret. 
And I will tell you, because I will never again let myself withhold this. Turn it down if you must, the first time, the second time, however many times. It is a permanent offering. It always has been that way with me. Once I give this it goes to the person and stays with them, a part of me, now carried with them, or discarded, whatever they wish to do with it, is beyond my control. That may be why it scares me so much. 
So, all that is left, here, now, between you and me, is for me to tell this to you. 
To tell you—I love you.
Written for and performed May 2, 2019 The Basic Premise Gallery, preceding readings by Jane Handel and Lydia Lunch
© 2019 Licity Collins all rights reserved. Please ask permission to reprint.
Photo by K. Stenbeck