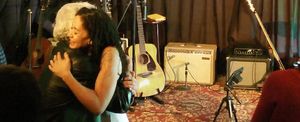 "I feel inspired and supported by Licity's openness and courage." —CF
What is the Love Circle?
These times require a lot of love.
The Love Circle are my sustaining financial supporters who make art happen. Love Circle members contribute $7 or more a month, or $100+ annually. Project sponsors who give larger contributions also become members of the Love Circle when they donate. 
Every month I create a special video message for the Love Circle. 
Members get exclusive access to a special password protected space on my website called "Licity's Love Circle Cafe." Where I post a monthly video message  just for you. We go deeper. I share secrets and intimate revelations. I answer questions, share what's really going on, my progress, excitement and dilemmas on new projects, and I even dive into my record collection and share some choice music recommendations. This genuine intimacy counters the constant negativity that bombards us every time we turn on a screen.
First releases of everything.
Love Circle members also get the first releases of new songs, stories, videos and behind the scene process. You know what's really going on. You get it all first. You also get saved front-row seats at live shows, and backstage pre-show zooms. Love Circle members are the closest to me in this journey.
"The Love Circle is like sitting down with Licity, sharing a refreshing pot of tea while listening to her inimitable take on the absurd and wonderful parts of life. I feel nourished by this place." —KB
 "Licity's Love Circle Café is a wonderful space. I can sit back, relax, enjoy all she offers.  I am not advertised to, counted, tracked, or invaded the way it is on so many other websites. I feel at ease when I am there, like I am hanging out with Licity."  —AK
"I feel so supported by Licity." —FV and JC