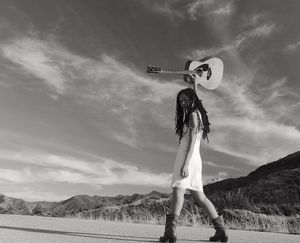 Press Kit
BIO | BACKSTORY | PRESS | VIDEOS | PHOTOS | TRACKS
"Courageous...writing and singing full-frontal."
— NPR's Here & Now
MULTIDIMENSIONAL GENRE-BUSTING ARTIST
Licity is fearless
Licity Collins is Fearless. NPR's Here & Now described her as "Courageous…Writing and Singing Full Frontal."
A multidimensional genre-busting artist, Licity combines her raw passionate voice, intense rhythmic guitar, with penetrating lyrics to layer intimate folk music with classic rock bravado designed to ignite fearlessness in the blood of her listeners. 
Her scored spoken word art has been classified as 20th/21st Century Classical. Her conceptual and performance art has been covered internationally, and is included in art history books.
Licity may be one of the few artists who can claim profiles on both NPR and Fox News. In this time of harsh divisions, Licity's passion bridges audiences and touches people in that place we all share—the place she embodies—of raw, honest, fearless emotion.
"She's hard to put into a category." —KCLU Morning News
Licity says, "I like cognitive dissonance and my people like to look each other in the eye."
Releases and Sample Tracks