"There are certain conversations that only come up when you are naked with someone."
2 min read / 3 min video
The Regrets (Chapbook Version)
Saturday January 6, 2018 Ojai, CA Thomas Fire at 281,893 acres burned 92% containment
Now Playing: Gabrielle Fauré, Requiem on KUSC the classical radio station 
I spent new years eve at a party at the house which was my first evacuation location during the fire. It seemed just right to go back there after we all survived the fire. They were under closer and closer threat for almost two weeks, the evacuation orders and the fire creeping closer and closer to their community on the hill waiting out another terrifying weekend of strong winds. But then, it stopped. All evacuation orders everywhere lifted, the fire was 85% contained and focus was on recovery and restart. I asked my host if things were back to normal and he said, "Normal if you live in a bakery!" He had begun prepping for his annual New Year's bash. 
Besides my hosts, I didn't know anyone at the party. I'm not really a party person, and I can't remember the last time I went to an event on New Year's Eve. I'm usually at home with a movie, take out food, and a hot bath. But I decided I needed a change, my whole life needs a change, and New Year's is that artificial opportunity to start things off in a new way. 
I was enjoying a chat with a professor of feminist theory until she promptly bailed when she interpreted something I said as disagreeing with her. Then I talked with a jewelry designer who lived in Portland at almost the same time I did. She lived in an ashram which I had no idea was even there. Then later I talked with, no, I  listened to, a physicist who after spending quite some time explaining an experiment in particle physics told me that we were going to be at war with North Korea within a year. 
At around 11pm I went down into the bedroom where all the coats were and just sat in a chair for a while. My social anxiety hasn't been as high as it was a few years ago, when I had to text a friend three or four times just to give me the courage to walk to a party around the corner, but sometimes in the moment if I think about how overwhelming a situation could feel, then it is. I emerged from hiding with about 45 minutes until the end of 2017. 
When the clock struck midnight I was in another awkward conversation with a woman who had just started telling me about her friend who had breast cancer. "Breast Cancer" had just come out of her mouth and was hanging in the air when the bulk of people at the party started counting down. It did not feel like the most auspicious start to the new year. 
There was dancing. I didn't dance. I wish I had. It really bothered me that I didn't. I got in my car to leave (to beat the drunken traffic home) really kicking myself about that. So I started the new year with a feeling of regret. That was an uncomfortable (and rather unfamiliar) feeling, so I decided that I would not have that feeling again for the rest of the year. I will dance whenever the literal or metaphoric opportunity arises. 
It was a good reminder of a lesson I learned about regret from someone who crossed my path for a short time in Portland, who I always want to write about but never have.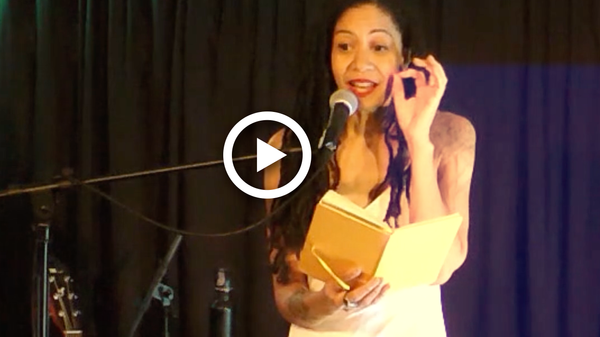 Josh was spry like a teenager still growing. Though his name was Josh, he went by the moniker "Cherry Sprout," which felt somehow equally fitting and absolutely misplaced. He wasn't a pixie in any way. Josh and I met when he was working at the trendy used clothing store and I was buying a black mini-skirt with red lace trim. I'm sure his compliments on my purchase was just a part of his job, but we kind of fell in love right then. It was that feeling of meeting someone and instantly not wanting to let them go. We were both Pisces and he was a drummer. That was all we knew. We became friends as best we could and we had sex once or twice. 
There are certain conversations that only come up when you are naked with someone and one moment with Josh has never left me. 
Josh was a spry, fidgety person, with messy short brown hair, a wide smile, and spikey teeth. He had lots of tattoos, including these tiny red stars on his face. They had no dark outline like most tattoos. They looked like freckles until you were close enough to see their tiny five points. That was very much like him, you had to get really close to understand his delicate beauty which seemed so vulnerable, so unprotected, just like the tiny unlined stars on his face. 
As he propped his bare body above me, I ran my fingers over a tattoo on the upper right side of his chest just below his shoulder. It was of the drummer "Animal" from The Muppets. I smiled, delighted. 
Josh was embarrassed. He had mixed feelings. He thought the tattoo was maybe was silly or immature. These were the same fears he harbored about himself. He said he had mixed feelings about all his tattoos, since tattoos are forbidden by Jewish law. Something about it affecting where he could be buried. 
Parts of the conversation are blurry, but it was what he said next that stayed with me and has tapped me on the shoulder every few years since. "But I figure," he said, "when I die, I want to regret the things I did do, not the things I didn't do."
A segment of this piece was performed at the Underground Exchange, Jan 12, 2019 and is included on the LOVE COURAGE YES album. Watch now:
© 2019 Licity Collins all rights reserved. Please ask permission to reprint. 
Video still by Bernie Larsen