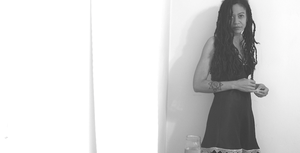 artist statement 
"Licity is fearless" 
People keep saying this about me. 
What I know, is that I value honesty above all else and I have unquenchable curiosity. 
Categories won't work. 
I naturally combine disparate things. Cognitive dissonance is exciting to me. This results in creations that don't fit into many predetermined categories. Someone finally told me to "stop genre busting" which made me laugh, but continue. 
Feelings first. 
For me, emotions are the primary source. Expressing the inexpressible. How those feelings find their way into the world as art is the adventure. It is critical for my artistic practice that I have a wide range of modes of expression. A feeling can become music, a song or album, a written composition, a video exploration, a spoken story, an assemblage, an interactive street performance, an entire event—anything. 
Art is my instinct.  
I make no distinctions between my forms of art. I create what needs to be created. I use and combine whatever dimension, form, sound, instrument, voice, object, and expression feels right to bring the work to life. This freedom makes being an artist even more thrilling. My work is passionate about the truth. That may be the one thing that ties it all together. I have no mission except to respond to the art that lives in me, and that lives in the ether and calls to me. To make art. Make art.
JOURNEY
I was born this way.  
A wise friend, who is both an amazing visual artist and also builds guitars, once told me that artists are born this way—hardwired to see the world through a unique lens and compulsive about expressing what we see, think, and feel.
It's been my life.
At seven I was playing cello in orchestra, saxophone at twelve, singing and playing recorder in school, and piano at home. In fourth grade, my visionary school music teacher recorded an album with our youth chorus on which I also played a very proud solo on the "sticks" (claves). She had us singing in eight different languages by the time I was fourteen. 
I spent every spare moment making my own toys, clothes, furniture, friends, and inventions out of anything I could repurpose. I created my first show of assemblage art made from recycled objects at seventeen, which showed at my brilliantly progressive Quaker high school in Washington, DC. In Providence, RI, while in college, I designed a program bringing theatre as a tool of expression and healing to women in prison. This program serves as a model for similar programs all over the country and continues to help women today.
Art all ways. Always art.
In 2000, in Portland, Oregon, a remarkable curator who pushed me to "get off the wall" gave me my first solo gallery show. This launched a full, adventurous and ongoing career as a conceptual artist.  Infused with curiosity and passion, using found objects, video, sound, textiles, food, technology, and my own body, I make a wide range of visual, multimedia, installation, interactive, and performance art. I have shown nationally and internationally, anywhere from galleries and museums, to street corners, to the nascent internet—where I was seminal in the establishment of the new genre of Internet Art. My work has received national and international press. It is taught in classes and is included in several art history books.
Crossing as many boundaries as I come across, I co-founded/co-artistic director of a trail-blazing theatre company, won awards as our set designer, was a founding board member of a contemporary art organization, served on local, state, and national arts grants panels, and created a series of pubic radio stories with WNYC/Public Radio International, among many other radio programs. I then got an MFA (Master of Fine Art degree), had a couple of books published, and did two book tours. As I create in every way possible, I also travel around the country giving talks and performances about art, music, and communication. I am always collecting stories and writing.
Music is the most timeless art.
In 2012, after moving to Ojai, California, Music tapped me on the shoulder and said, "It's time." I began to sing again, and taught myself guitar, creating emotionally rich songs full of folk intimacy and rock bravado. Rock, Folk and Classical music had supported me through a difficult and lonely childhood. It had fueled every creative project I had ever made. Now I am part of the tradition and vital force that taught me, held me, and kept me alive.
My debut full-length album released in 2018, launching a signature sound true to my genre-defiant nature. In 2019, I created a style of intimate and dynamic live events that includes music, spoken word, and personal interaction giving my audiences a deep sense of connection. My love of mixing genres was highlighted in an interview with NPR (National Public Radio). I currently serve on the BRAVO music education committee for the world-renown Ojai Music Festival. In 2021 and 2022 my music expands to include instrumental compositions and conceptual work, and continue my quest for intimate soul-shaking sounds. Making music is an exciting fulfillment of a life-long passion. It calls me to be, use, feel, and express everything I know.
A life of practice.
The journey is incredible every day. I am so grateful for all I have accomplished, but my mind and heart looks forward. I spend my time deeply engaged in what I am doing right now, and infinitely curious about what is coming next.
—Licity
 
"Courageous, engaging them by looking them in the eye and writing and singing, sort of, full frontal." —NPR's Here & Now  
"Lyrical, intense, intimate and relatable, a diary into Licity's mind that listeners may see as a mirror into their own lives." —FoxNews..com  
"I feel inspired and supported by her openness and courage."  —Cavana, Love Circle Member