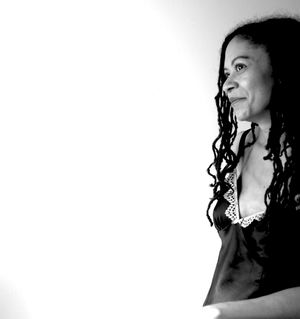 Q&A
WHAT'S UP WITH "Multidimensional Genre-busting?" 
I chose the terms that most fit what I do, which is no-term. An agent of mine always told me "stop genre-busting." That's where I got that term from. But I can't stop, why would I? The way my mind, my heart, the very cells of my body work is to combine disparate things into one. I collapse the separations between dimensions. This is how I am free, happy, and whole.  People like categories, borders, limits. I don't fit into any. Basically, I hold you tight, throw water in your face, cry with you, make you laugh, then a light bulb appears over your head. What genre is that?
You've said your songs are like roommates. What does that mean?
During the time when a song and I are working together to bring it into the world it changes the flavor and feel of my life for a while. It brings items in that redecorate. It brings in new opinions and perspectives. It comes home at unexpected hours. When it wants to talk it wants to talk and doesn't care if I was already doing something else. I am forced to change as I adapt to its quirky ways, which means I grow. Then it moves on, and a new roommate moves in and my life changes in new ways. Luckily, so far none of them have been like the disturbing real-life roommate who left me death threats in my garden when she moved out.
Musical influences?
I have classic rock flowing through my bones and I get enraptured by the literary prowess of folk music. I can list a ton of people here, but if you can shred on electric guitar like a superhero—I love you. And if you can tell a story with unexpected language wile bearing your true soul—you've got my attention, respect, and probably my tears. I want my music to sound like a vocabulary-loving, soul-bearing superhero.
For you true music nerds out there here are a few deep references: Joan Armatrading, Ferron,  early Kinks, Bread, The Waitresses, Yaz, Firewater, The Dead Milkmen, They Might Be Giants, The Fixx. These artists have written songs I consider perfect. They craft completely original stories. They lay their entire soul on the line. They keep me in awe.
Literary influences?
When I was fourteen I tore my diary into pieces and flushed it down the toilet. It terrified me that my most vulnerable self was documented somewhere that people could find. Years later a friend gave me The Diaries of Anais Nin, another the Journals of May Sarton. Their vulnerability wasn't terrifying. It was a comfort and inspiration and I fell in love. I found a format where my stubborn honesty, instinctual vulnerability,  relentless analysis of myself and complete confusion about the world became art.
ARTISTIC INFLUENCES?
Adrian Piper, Cildo Meireles, Marina Abromovic, Chris Burden, the "uncategorizables." I spent fifteen years making conceptual art before doing music, and now I am bringing all of my work under the heading of ART because that's what I am, an art-maker. My medium always changes depending on the reason at hand. These artists showed me that was a possible way to live and practice.
Random influences? 
All my work is touched by the theories of "Theatre of Cruelty" as discussed by Antonin Artaud. I am moved by his passion about extracting both artist and audience out of pretending/performing and his quest for an experience of bare emotion in real time. He and I both believe this can create a revolutionary awakening for humanity.
Have a question for Licity? Send it in on the Contact Page