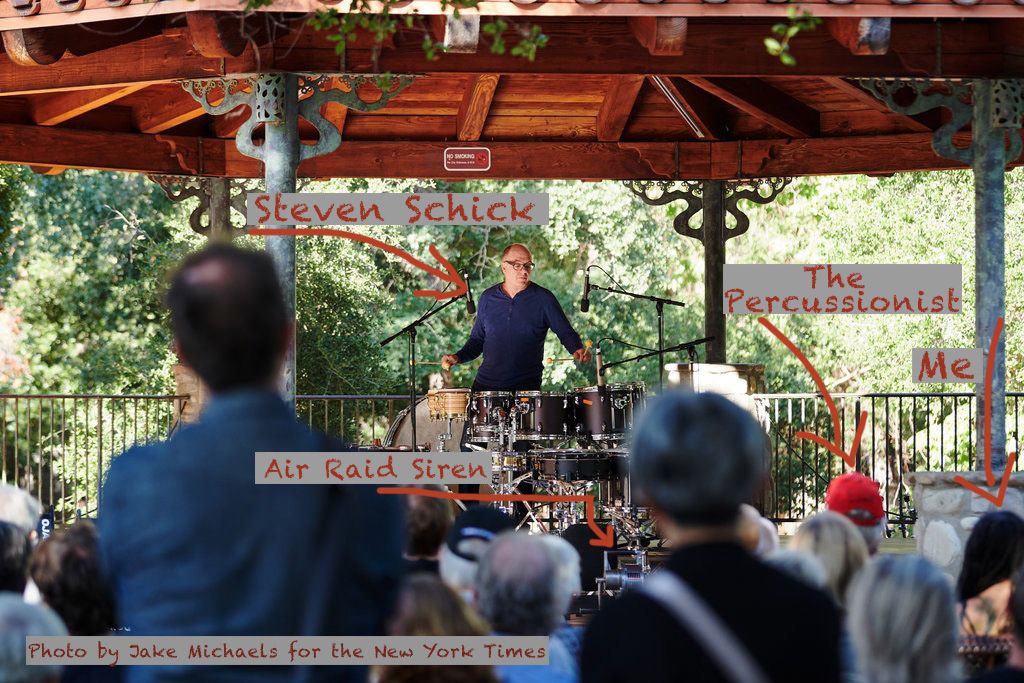 "The drummer is supposed to be the most loyal, right?"  
18 min read  
The Percussionist
June 8, 2019 Ojai, CA in Libby Park by the Gazebo
Now Paying: John Luther Adams "The Mathematics of Resonant Bodies I-VIII" as performed by Steven Schick   
In the last five years I have become a devotee of the Ojai Music Festival. Before I moved to Ojai, I actually attended one show of the festival, but I had lawn seats which meant I couldn't see anything. When I stood up every so often to take a gander at what was happening on stage, I hated what I saw. The concert consisted of a clarinet player wearing some kind of tribal mask while doing some kind of interpretive dance, and by the way, also playing some kind of clarinet. I hated it. A lot. Really, a lot. I still talk about how ridiculous it was and how I never want to see something like that again. BUT I was curious. I love classical music, and I was certain that there must be something in this nutty experience that I would eventually come to love.   
And I did come to love it. A lot.  
It is my favorite time of the year in Ojai. There is a magic to this town during these four days. I am not shy about saying this—the IQ of Ojai increases significantly during this time. For four glorious intellectually indulgent days I get to nerd out with thirsty audience members, music nerds, and thrilling performers who all meet up here every year, and have conversations about things which some may think don't matter to the world in any material way—except that they matter to the world in the most important way because we are engaging with art and art is the thing that can change us all profoundly and permanently with or without our permission. It can change our lives and it can save the world.  
The festival consists of as many concerts as can be packed into four days of fascinating, innovative, inquisitive and sometimes even beautiful "neo classical" music. The music shared at this festival is often accused of being overly academic, too clever, bordering on arrogant and exclusive. I admit, sometimes it does come across that way. But…every four performances or so, something truly special comes along that transcends all critique because it simply reaches inside of you, shuts off your brain, and changes you. Every so often there is a rare and perfect balance of an exceptional piece, written by a visionary composer, and performed by an artist who knows how to leave their ego in the green room and give the music to the audience. Those are the performances I live to devour. Those moments feed me. Nourish me. They are like a seven course meal of pure heart food.   
This year, Steven Schick, a man who has somehow managed to make his living as a solo percussionist. Let's digest that for a moment—a solo percussionist.  Yes, he plays drums, alone, by himself, on stage, with no one else, for long periods of time, like an hour, sometimes five hours. I am not kidding. Yes, he makes a living doing this. And he, as one of the premier solo percussionists performing new music, has had the privilege of having some of the best composers create music that they write just for him. Wouldn't you?   
This year he performed a work that John Luther Adams wrote for him titled "The Mathematics of Resonant Bodies I-VIII." The eight parts of the work were performed in three concerts over three days, in the gazebo in Libby Park, which is a small family-friendly park with a playground in the center of town. It is the preamble to the Libby Bowl amphitheater where most of the festival concerts are held. These three park concerts were the only free shows of the festival, open to the community, and I was thrilled because of all the shows that could be free—this was truly going to be a gift to the town. I told everyone I knew that they should go.   
The first day, I got a seat in the third row with a couple of people I see only once a year at the festival. It was nice to see them, but I hate having other people's heads in my field of vision when I am trying to watch music being performed. I am a front row girl. I learned to sit in the front row in eleventh grade in high school. I had a very smart math teacher who had observed my habits while I was taking tests, and doing poorly on them. He noticed a couple of things. First, I was great at the complicated calculations but when it came to the simple addition or subtraction, that is were most of my errors occurred. He suggested this was because I got bored, impatient, and sometimes switched my numbers so they were in reverse order. Second he noticed that I spaced out looking at the other people in the room. I got distracted by humans. He told me to either sit in the front row where I couldn't see anyone, or to sit by a window so when I needed to take a mental breather I could look outside for a moment then refocus on the test. For the rest of my life I took tests in the front row, and did much better. I also watch movies this way, and if I can, see concerts this way too. It's wonderful. It makes it feel like I am the only person in the room. Since then, tests, movies, and concerts all feel like a private and immersive experience for me.   
The second day of the Steven Schick outdoor free performances I got stuck in a conversation before the show and got there just before it began. And so I did not get a seat at all and had to sit in the mulch on the ground leaning against a light post. Although, that was technically on the far side of the front row, Ojai had a flea outbreak last summer, so sitting on the ground was not where I wanted to be as the days started to heat up. So by the third day I was determined to sit in a seat, as close as I could to being in the performer's lap. Front row center. I got there an  hour early and grabbed the bench right up front. There was nothing between me and Steven Schick but a narrow walkway and his instruments. This means I was in my bliss.   
Since I was an hour early I had some time to pass.   
Two friends took me up on my promotion of the concert and were meeting me there. I was saving most of the rest of the bench for them, but after a while I started to feel like  a jerk with my stuff spread out over most of this prime front row space as people started to pour in and look for a seat. I decided I could save the part of the bench to my right, but removed my sweater and bag from the part to my left.   
As I was moving my seat-saving flotsam out of the way, a couple noticed the opening I was creating on the bench and inquired about sitting there. I said, yes, it was an open seat and explained that I was just deciding that my skinny-butted friends could fit into the part of the bench on my right and so, yes, there was room for this man and his wife.   
They sat down next to me.   
The man was round and tall, not quite large, but big enough that I think he felt just a tad self-conscious about the space he consumed on the bench. His wife smaller than him, brown-skinned, maybe Filipino. He was white, grey-haired, and wore white short sleeved collared shirt, and a red baseball cap. He was friendly. They both were. He did the talking. She nodded and I remember her voice saying something, but not words. Or maybe just the recurring "Yes" and a laugh. They told me that they were staying in nearby town for the night because tomorrow they were going on a wildlife cruise around some local islands. They said the rule in their house is that once a month they have to get out of town and do something. Once a week get out of the house. Once a month get out of town.  This was their once a month. He said that they just happened to see a sign somewhere that there was going to be a drum concert in this park and so that's what they were doing there. He looked really excited.   
I asked him why a percussion concert would interest him.   
He said he had played drums a little in middle school, and high school, and then in his college marching band. But that this was many years ago and he hadn't played since. He looked in his late fifties, but had that "retirement is soon" tone to his conversation. He had gone to the University of Michigan. Played drums in the marching band there. This caught my attention, because I have been to the University of Michigan and it is huge. It scares me. It is like a city unto itself. I got the feeling, when I was there, that a person going to school, living on that campus could be entirely cut off from the rest of the real world and never even notice. That does not feel healthy. But also, I have an old and personal connection with that school. My high school boyfriend went there, after he graduated, and I was still a senior. Like the dedicated girlfriend I was, I sported a Michigan sweatshirt and a "GO BLUE" bumper sticker which I stapled to the top flap of my green army surplus backpack. I can hum along with the Michigan fight song, really, I can I think. Wait, I just checked. Yep, I can still hum the tune on my own, and just did.   
Anyway, I don't remember his name, not my boyfriend, his name was Ranjiv. I mean the guy in the red hat sitting next to me waiting for the show to begin. It might have been Dave. I think it was. Dave went on for a bit, he was the kind of guy that when you get him talking, he likes to talk. He went on for a bit about the rivalries between the University of Michigan and Michigan State, but how their biggest rivalry is Ohio State. They hate them. Far and wide. He sad that any two University of Michigan people can be bonded through their shared hatred of Ohio State. It runs that deep. He said he went to a bar once and they had an Ohio State doormat at the bar, and a sign that said "Make sure you wipe your feet." He said that he knew then that this was the bar for him.   
My friends arrived, and squeezed their small boney behinds into the space to the right of me, One of them said she didn't want to interrupt the chat I was having with Dave, and so I turned back to him. Just then Steven Schick came out on stage, and the crowd grew quiet.   
On the stage before us there was: A set of four snare drums. A set of three tom-toms. A large bass drum. And on small pedestal, in front of a chair, an industrial seeming tool of some kind. It looked like a round fan, about a foot in diameter, with a crank handle on one side. The second of my two friends, looked at this apparatus, gave a kind of upward nod with his head and said, "Air raid horn."   
You get where this is going, right?   
It began. Steven Schick, as he had for the first two of these three concerts (neither of which had used an air raid siren) commenced to play his instruments with precision and a tangible sense of restrained abandon. He plays as if he is drawing the sound out of the instrument. It will sound cliché, but you know that quote from Michelangelo? How he says he looks at a piece of stone and can feel the sculpture already within it, and all he does is cut away what is not needed? Steven Schick's playing is like that. The music is already in the instrument, it just rises out of it when Steven is near. It is as if his presence brings a kind of desire out of his drums, to please him, and to help him please others.    
So he did this, with the snares. He did this with the toms. And then, he sat down on the small black chair, center stage, and ceremoniously placed his hands on the air raid siren.   
And to make this image clear, one activates the sound of an air raid siren simply by winding its crank round and round. Faster creates a higher more frenetic pitch. Slower winds the sound down in pitch. That's it. That's what he did. That's what we watched.   
It was wonderful. The winding of the crank took on a kind of magical feel. His hand was an expressive art into itself, a dance. It floated up over the handle, bearing down on it as it rounded each turn. Sometimes his hand tensed up, other times it relaxed so much to the point of barely touching the crank handle and letting the momentum of the siren itself allow the tone to rise and fall according to its own volition. I was mesmerized. He wound faster and faster and we all could anticipate the siren getting to a particularly high pitch, something which made it feel fully realized as if the sole living purpose of the siren was to make that recognizable high ear-blinding noise. But Steven pulled it back just before it got there so the anticipation of the audience, or at least within me, was like climbing to the top of a roller coaster only to see just beyond the highest ridge, and fall back down the way you came. It was frustrating to the point of delight. If there had been that high note, if it had been reached, the satisfaction would have released all that building tension, and in some way dissipated the powerful feelings the siren was generating in me. But by not allowing that aural relief, Steven Schick created a perpetual longing inside of me which still aches to be satisfied. As a result, I remember the siren performance more than any of the others—because something in my body feels unresolved. And like anything that feels unresolved, my mind goes back to it over and over again, seeking something, some kind of understanding, some kind of resolution—something which would allow me to be released.   
It made the performance absolute genius.   
And then he left the air raid siren, and moved on to the bass drum at the back of the stage. And after that, it was over.   
Next to me there was a quick jolt of uprightness. Dave was standing up. He started to look as if he was, well, irate. His posture was tense and he tugged at his shirt, pulling it down as if it were the end of a very angry sentence. I looked at him. I might have asked him what he thought. I might not have.   
Dave spoke.   
"I have been a percussionist my entire life," he said emphatically, "and I can tell you, that, that—was not music." And then Dave stormed off, ahead of him I could see fragments of his wife, who seemed to be rushing off even more quickly, already several feet ahead of him. I didn't see his face. I just saw his red baseball cap and white shirt moving rapidly towards the exit of the park. I wished him fun on his wildlife tour as he hurried down the walkway in a huff.   
Huh, I thought to myself. He said he had only played drums in school and college, over forty years ago. Now, only after this performance made him so uncomfortable and angry, did that semi-skilled kid on the drums had become "a percussionist all my life."   
In that moment of his discomfort, Dave decided that he could not handle his inner dissonance, the lack of resolution that got me so attached. He responded to this by deciding he was a better musician, and perhaps better person than Steven Schick. He decided Schick was wrong. He didn't ask me why I liked it. He didn't ask anyone of the other 99 people why they were there. He didn't ask himself any questions in his mind he could not answer. And then he left.   
This is not the first time I have seen a Steven Schick performance piss people off to the point of storming out after exclaiming in anger.   
in 2015 in another wonderful and free concert at 10:30 at night in the cold desert air of Ojai, he performed Ursonate by Kurt Schwitters. This is a very long spoken word piece. It really is a piece using mouth percussion. When I say spoken "word" I mean sounds and syllables which are unrecognizable as any known language. He spoke these in long unending phrases while he sometimes rolled on the ground and light projections were played behind him—for 40 minutes.     
I fell in love with the piece and, that night, with him.   
But promptly after his completing the laborious work, members of the audience in front of me, behind me, to my left and to my right, stood up, huffed complaints and stormed out.   
This only made me love this work and him more.   
Some of those people were like Dave, angry. I have heard that people routinely call the festival and demand a refund of their tickets. But some of the people come back, year after year, after year. After hating works, after being totally disgusted by the music and the performances. Some of them come back because they are adventurous, or dedicated, or invested. Even better, some of them come back because they are in enraptured by the most wonderful question: "Why don't I like this?"   
Many years ago, a friend of mine tried to get me to like the band, The Who. I tried. I couldn't. I know that sounds surprising coming from a rock-loving girl like me, but they made my head hurt. That's all I knew. The music gave me a headache. Not metaphorically, either. There was actual pain in my brain. I could not process the sounds. Then years later, I was recovering from a lifetime of disordered eating and found myself captive on my couch as my body recalibrated itself for weeks. With my laptop propped on the table before me, I wandered through all that the heyday of Netflix had to offer. Eventually music documentaries took over. I tore through the "Classic Album Series" (see these if you have not, they are so good), watching every one they had from Cream to Duran Duran.  And "Who's Next" was one of the many dissected albums I digested. I can't tell you anything I remember about the simple 45 minute documentary, except that afterwards I understood this:   
Oh, this music makes my head hurt because—it is genius.   
The Who is comprised of four people basically playing their four instruments like soloists all at once. This can even become five soloists, if it's a song with sequencing tracks, which may be the most or only predictable part of that band. This is a lot for the mind to take in. They came at me all at once like a telepathic onslaught of thoughts, sounds, images, feelings. It overwhelmed my senses, and short-circuited my brain.  I didn't know how to listen to them. I didn't know how or what to hear.   
I had to learn. I had let them teach me.   
And so I listened, to each one of them in each song. To all four of them together. To two of them playing off of each other. And to the tiny amount of space left between them.  I found myself not observing them, but walking among them on stage, from person to person, as if each one was beckoning to me to come his way. Then another would come and grab my shoulder and insist I listen to him. They brought me into their world and it was so alive.   
Once I got it, once I was able to listen—I began to cry. For the next year, every Who song I heard brought tears of wonderment and joy to my eyes. They still can, especially when I open my heart to Keith Moon's drumming, which I find to be some of the most emotional drumming in rock and roll. That guy gave us everything he had in his body and his self, every time he sat down. He doesn't seem to think. He plays. He goes. Roger Daltrey described him as the sound of an airplane winding up behind them. He is wound up and then lets go into pure instinct. And he reaches me. He dives directly into my blood cells. He makes my heart ache and I still cannot put words on what it is I feel, I just know that I feel. It is overwhelming and wildly fulfilling. The words are hard to find. It just makes me cry.   
It was not long after that that I began writing music of my own.   
And when it came time for Steve DiStanislao to record the drums on my One Girl Town album, I made sure, as much as possible, to let him do whatever he wanted. The only direction I gave him was that I believe that the drums are the emotional center of the song. And he watched me. He watched me during our recording sessions to see if I was feeling what he was playing. We took three passes through one of the songs and I just didn't connect. Then he said, "Let me try this" and as he played he watched the song take over my body, unfurrow my brow, pull me away from staring at the ground to focus, and I moved. At the end of that take, Stevie said, "When I saw you moving, I knew we were good." And now, when I hear his playing on that album. It makes me cry.   
The drummer is the pulsating heart of any music. They are what drives the blood, the notes of the other instruments, through our veins. It is an action which requires both force and restraint, grace and gall. The best drummers are confident in knowing they are the best surgeons in the world, while being unassuming, humbled by being given the access to the human spirit that they are given. They do not take it lightly that they have complete control over us.   
And perhaps that is why percussionists can evoke such emotion, rage, anger, tears, and that breaking open feeling I get when I hear a drummer who truly feels it. In fact, when other musicians describe drummers they say, "He has a good feel." Perhaps that statement is much more than we realize. In reality, that drummer has not just his feel, but access to all of our feelings.   
And when we don't know what to do with the unusual feelings someone creates inside of us. We call those feelings unpleasant, uncomfortable, maybe even wrong. Maybe we don't even take the time to name them, we just push them away as quickly as we can. Then, do we feel betrayed? Maybe even violated? Is this what Dave felt, when he, a newly claimed "life-long percussionist," rejected John Luther Adams' creation for Steven Schick as "not music?" He did not ask, "Why don't I like this?" I think what his statement was really saying is, "I felt like he hurt me."   
The drummer is supposed to be the most loyal, right? Keep the beat, stay steady, stay in time, and keep us all in time. Keep us all safe in the borders of the song. After all when the heart beats out of rhythm, when it starts doing something it's not supposed to do, our whole body, our very lives, are put in danger. It is no wonder we get scared when the drummer starts acting unpredictably, which ironically, or perhaps predictably, thankfully, in rock and roll, they are notorious for doing. It just reminds me how desperately humans need to live on the edge. We crave the kind of sensations that makes us feel like we are risking our lives, yet, we curse those experiences in equal measure. This is why we are such avid spectators. We love to watch the athletes over-train and push themselves, we love to watch wild performers, we love to see the dancers on the edge of exhaustion. This is the gift our entertainers give us—vicarious heart palpitations which take us to the edge of death to make us feel alive.   
You know that my heart was recently "broken" by an unexpected and short-lived but extremely intense love. And you know, because your heart has also been broken by love and loss, that these extremes of feelings which we call love, is paired inextricably with grief. And when those things happen in our hearts simultaneously or in cascading succession as they often do, it feels unthinkable, wrong. Something that should not be allowed. Painfully euphoric. Life meeting death. I did not like it. It hurt me. And, yet, slowly, as time transforms the pain, I find myself getting ready to come back.   
In my music, I bang on my acoustic guitar so much that it sounds like overkill to have the drummer keep time. My favorite, and proudest moments are those that emerged when I gave Stevie D the freedom not to keep time at all. In "These Eyes Don't Lie" I still can never anticipate what he's going to play next even though I've heard the recording countless times.  Every time, I admit, I hold my breath, as if he is not going to show up in the next measure. But he does, and every time, I learn a little more about trust.   
I think we need to be brave, so we can let the drummers, as proxy for our hearts, be free to do their work. If we really trust, they can take us places where we may not want to go. We may find ourselves in frustrated delight, or inexplicable cathartic tears.  It might even feel painful. When we are afraid, we must ask ourselves "Why don't I like this?" And come back. Even if we are also saying, "I feel hurt by this." And come back. We have to allow them to teach us. When they break time, and when they speak words we cannot recognize, and when they wail. That air raid siren piece is called "Wail." We have but one responsibility to the drummer, and to our hearts—to come back.  
—Licity