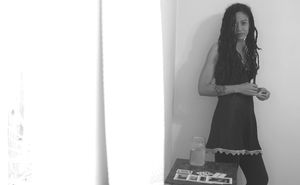 Join Licity's Community
My community is so important to me
LEFT TO LEARN is a raw and revealing self-confessional. The song is full of Licity's signature intimacy and bravado—at a whole new level. Beginning with the relentless monotony of a break-up, "It was over every day this week," then transforming the expectations of the world into bold inner strength, LEFT TO LEARN is a triumph of trusting yourself in any and all conditions of pain. It is a song of defeat turned into resilience.
"Breaking rivers, stealing oceans, scratching out the sky. I took  my turn. My skin began to burn. The same thing left to learn. Same thing Left to Learn."
LEFT TO LEARN follows last year's spoken word-art release "The Flower in the Mirror was Dead." And unleashes the next phase of Licity's full-band releases, building on her debut album "One Girl Town" and live album, "Love Courage Yes." LEFT TO LEARN takes Licity's passion for the intimate to an even deeper level, drawing listeners into their inner most struggles through her own self-confessional reckoning.
LEFT TO LEARN is the first single released from Licity's forthcoming EP "Touch This" (September 2023)
Release information below bios