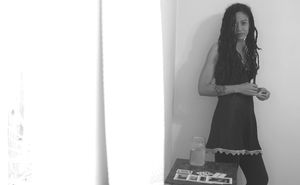 Join Licity's Community
My community is so important to me
MOVING IN MY SLEEP is a playful romp through the relentless madness of a recurring nightmare. A precise description of Licity's own recurring 5am daily dream, Moving In My Sleep takes the listener through the perilous haunting of landlords, keys, boxes, memories, and impossible choices. "Time, more time, I just need some more time."
"Every morning, early, I have this recurring dream. I'm packing everything I own, running out of time."
"Hiding in corners, trying to stay. Desperate for one more day."
MOVING IN MY SLEEP follows February's release of the single, "Left To Learn," and 2022's spoken word-art release "The Flower in the Mirror was Dead." And unleashes the next phase of Licity's full-band releases, building on her debut album "One Girl Town" and live album, "Love Courage Yes." MOVING IN MY SLEEP shows off Licity's fun near-pop playfulness while still engaging the depths of the human psyche.
MOVING IN MY SLEEP is the second single released from Licity's forthcoming EP "Touch This" (Fall 2023)
Release Information Below