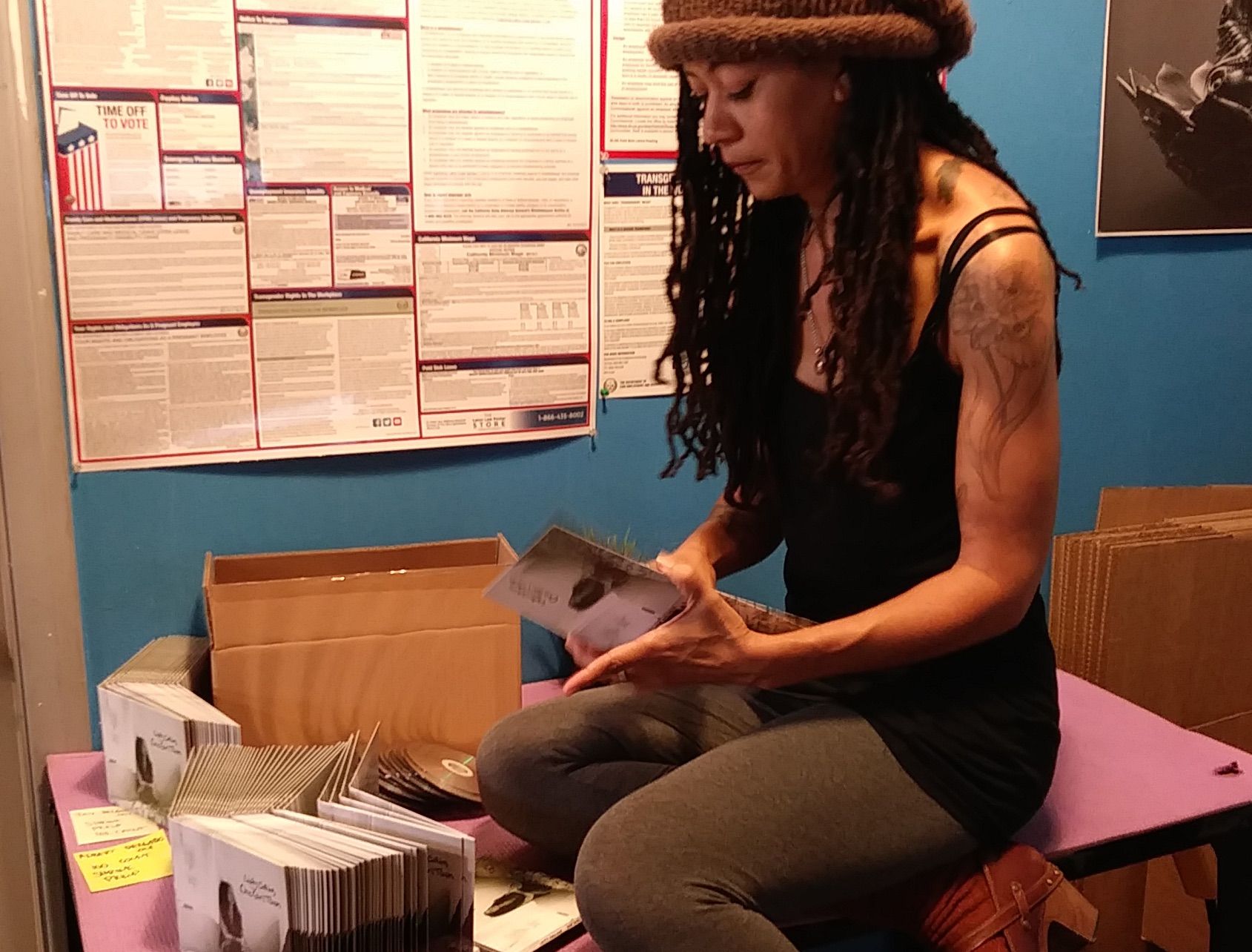 "My album came out. My mom is still dead...Just hold on. Keep holding on."
6 min read 
The Endurance
Now Playing: The Imagined Village  "Sick Old Man" from the album Bending the Dark streaming on Pandora. "When I was a young man, I burned my tools. Now I have no chest to sit on." I LOVE this band. Go find them after you read this. They will help you endure. 
Well this is bullshit. 
I finally heard my head say it. 
I finally allowed my heart to feel it. 
FLASHBACK 
February 13, 2018 
I was sitting on a fold-out-to-the-floor couch/mattress in the back room/closet of a high school friend's co-op apartment in my hometown of Washington, DC. My small suitcase was in one corner. My trusty traveling heating pad was plugged in and tucked under my lower back, soothing away the travel aches, and compensating for my consistently low body temperature. A water bottle with a yellow rose sat on top of a small narrow unfinished wood bookshelf which was the only other furniture in the room. The rose was the single souvenir (if one can call it that) that I had taken with me from my mother's funeral, which was just the day before. 
I had my laptop open and was forcing myself, as I had been during this entire trip—on the plane, in the grungy hotel room, in the slightly less-grungy hotel room I had upgraded to, and now on my friend's humble guest bed—forcing myself to email music blogs, podcasts, magazines, radio stations, and anyone who might give a damn, or who I might convince to give a damn, that I was about to release my debut album, One Girl Town. It had been completed only a few hours before my mother died. 
This is total Bullshit. 
I heard my mind say it again. 
I can't do this. 
I pushed the laptop away in disgust. 
At first, doing shallow media work had felt like I was keeping a commitment to myself. Promising myself not to drop my creative life just because other parts of life showed up without so much as a week's notice. Some days sending press releases felt like an inappropriate defiance of the natural order of things. It felt wrong, like "fooling with mother nature." Other days telling the world about my greatest creative effort yet felt like being an advocate for my neglected teenage self, by refusing to let my mother steal yet another one of my big moments. Mom had a way of doing that. She found ways to upstage any and every good thing that happened in my life. She was resourceful about it too. She'd use any tool at her advantage to take attention away my accomplishments and unsettle the firm ground of self-esteem that I was barely building. Her tactics ranged from accusing me of drinking and driving to selling our childhood home. But not this time. Mom was not going to steal this moment from me, not even with her damned final breath. 
But this is totally crap. 
I'm not gonna do this. 
Every part of my body refused. 
And I agreed with it. My body, mind, heart were right. I can't do this. 
My mother was dead. My MOTHER was dead. My mother was DEAD. 
Not that this was an unexpected thing. People die. They get old, sick, go crazy and die. And Mom had been old, sick, and crazy. Nothing had shielded me from this. So it wasn't a shock. It was welcomed. I never wanted her life prolonged in such a state of misery and neither did she. It wasn't a trauma. it was just a really huge looming fact. 
But I couldn't give up. Not on myself. Not on this album. I had worked too hard on it, and mom dying three hours after the files were completed was not going to stand in the way of my making sure that people listened to it. I hated when people say this, but I don't think abandoning my art is what mom "would have wanted." Even in her undermining my accomplishments, Mom never meant for my heart to shrivel, which is what losing touch with my art would mean. I saw glimmers, from time to time, of how much Mom treasured my heart, the heart of a daughter born with an understanding of the world that can only be expressed through art. 
Mom's life-long mental challenge, her inability to love the way she wanted to love, was not her fault. It was not under her control. Had she a choice, my mother would have been my biggest fan instead of one of my biggest saboteurs. In fact, when her mind started to go even further from where it had been most of my life, when she started on the road toward death, glimmers of that pure love would slip through. For the first time in my life, my mother had told me I had a beautiful singing voice. So now, right then, I would choose that mom. That mother who every so often, once every five years or so, tell me how special she thought I was and say that she loved me. That would be the mother I chose to have every day from now on. 
So I pulled my laptop back onto my lap, and typed the words "Grief Podcasts" into a search engine. Then I one-by-one unabashedly wrote every email address I could find and said, "My mother died the same day my debut album was finished. I'd like to talk to you about that." 
I didn't know if I was selling my mother out. Was I using her to get press? Maybe. So what. It felt like a fair trade since instead of being at home writing music blogs about my brilliant skills at combining folk music with classic rock, I was sitting on a borrowed bed, on a borrowed floor, under a dying yellow rose, in a post-funeral daze. I think that's what "mom would have wanted," I thought. hah. Who cares anyway, she's dead. She has no say in the matter. Does she? Am I soiling the memory of my mother's death, or is she soiling the memory of the release of my debut album? Both things only happen once in a lifetime. 
My mind went in circles.  I'm not a bad daughter. I just had work to do. I had three months before the record comes out, which is the absolute minimum timeframe for press releases. This was the time for the full-court-press, as it were. The release date was already announced. There was no stopping it now. Mom was going to be dead forever, there was no stopping that either. 
[Listen: My interview with Grief Out Loud about my mom's funeral and the album release.] 
PRESENT DAY 
September 2020 (several months into the global pandemic) 
Looking back, I can honestly say that releasing my debut album wasn't painful—(well, until the CDs were ruined three times), it was an act of total love. But it was also a lot of work, stress, and sheer terror on many levels. I was taking a huge leap in my life and the project had been a the most expensive financial endeavor of my life. I was already mentally, emotionally, and physically 100% maxed out—then my mother died. That required a entire second 100% capacity of heart, mind, and body. Luckily, this was not unfamiliar territory—juggling my life with family crises. I had a lifetime of living my life in front of a background of secret trauma. I am a supreme emotional multi-tasker. That doesn't mean I didn't spend many days walking through cities on the east and west coast like a total zombie. I did a lot of that. 
This story goes on, of course. But I offer a slice of that picture now, here in this time…this time…of what.. does it have a name? I refuse to call it 2020, I refuse to blame a year. "Covid times" can't capture the global pandemic, racial unrest, destructive unending fires and hurricanes, a terrifying election which will either expose a dictatorial government or deepen it into a permanent state, the collapse of the country's economy, governmental neglect to the extent of letting scores of people go hungry and become homeless, the death of the best Supreme Court Justice ever, which was only last Friday, which has only lead to the codification of a tyrannical takeover of the most sacred branch of our government, which will have power over our laws for generations to come. And as we sit on the verge of the widely predicted "second wave" of the Coronavirus, we have all simply begun to assume that there will be more. 
There's no stopping this. 
Like that moment, on the floor of my friends closet/room, when I was holding, living, managing, dealing, facing, and ultimately accepting both my debut album completion and my mother's death on the exact same day. When I walked into a timeline of Mom's funeral and my debut album release happening simultaneously—all I could really do was say, "Okay. This is how this is happening, Yes." (I end my spoken word piece "The Hotel Room" written on that pilgrimage, with that very line.) 
And we have to keep saying that—until it is over. 
"This is how it is happening, Yes." 
And we have to keep saying this over and over, because it's not going to be over for a while. As The Offspring put it, "I have a feeling it'll be a long time." 
We have to start practicing long-term acceptance. 
We have to learn how to endure. 
And, I think there might be a kind of centering to endurance, a strange peace. Acceptance is radical, and to do that long term, could be, in a way, liberating. 
There is a spiritual tradition (and perhaps this line is not exclusive to only one tradition) that has four pillars, four kind of guiding principles. I can't remember the first three right now, of course, but the fourth is "Endure until the end." When I learned this, I pocketed it as one of my most favorite inspiring spiritual concepts. "Endure until the end." It's liberating. I find it liberating. It gives me simple instruction, which is something hard to come by in the midst of chaos. I guess that's why people like religion. It tells them what to do when they don't know what to do. That's the main reason I don't like religion. So what I'm looking for here is not a reason not to think, search, grapple, or strive to hear my own voice. I just find a comfort in this notion of endurance. Like a bed I can lie on while I do all those other things. 
Just hold on. 
Keep holding on. 
and then keep holding on some more. 
It's a spiritual principle for a reason. It transforms us. 
I am in this with you. I am struggling, scared, worried, angry, anxious, nervous, tired, and weary. But I am also grateful, in awe, inspired, curious, and hopeful. And as I write this, two owls are making hooting noises in my backyard. It's a beautiful sound. I think they are telling each other to hold on, and keep holding on. Wait. I can't believe I just wrote that. That's projectile personified human arrogance. I hate it when people put words into the voice of nature. In truth, they are probably scoping out the mice and raccoons for a midnight snack. Whatever they are discussing, I find their sounds comforting. They remind me that I am not alone. Truly, every living being is experiencing this time. 
Just hold on. 
Keep holding on. 
and then keep holding on some more. 
Endure. 
There's no stopping this. 
And, there is no end. 
Endurance, right now, means integrating this. It is part of who we are. 
That's how big life things are. 
My album came out. 
My mom is still dead. 
And I am still me. 
Yet, those things are a part of me now and—always. 
Endurance means integrating that—and this—into who I am. 
And that takes love. A lot of love. 
Because when we truly accept things like this into who we are, we learn to love them, just as we learn to love ourselves. We become less afraid of the things that make us who we are. When we become less afraid, it is evidence that we are using the power of love. 
Endurance helps us learn how to love.
© 2020 Licity Collins All Rights Reserved. Please get permission before reprinting or posting.